Telefonica: If At First A Deal Falls Through...
The former monopoly has new allies in MCI and WorldCom
by
Juan Villalonga, the youthful chairman of Telefonica de Espana, puffs long cigars while he's cutting deals. And for the past year, his art deco office on Madrid's Gran Via has been thick with fumes. Villalonga has sought global allies since Spain's former monopoly finished privatizing with a $4.4 billion stock offering in early 1997. Now, it looks as if Telefonica has the deal it needs: On Mar. 9, Villalonga announced that it will forge strategic links with soon-to-be-merged MCI Communications Corp. and WorldCom Inc. "The sky's the limit," Villalonga beamed.
You can't blame him for thinking so. Assuming the deal goes through, Telefonica will build on its powerful base in South America, push into the $7 billion Hispanic long-distance market in the U.S.--and capture much of the burgeoning traffic between the two. Closer to home, Villalonga hopes to buy into the fiber-optic networks WorldCom is building in 35 European cities. Telefonica is not unchallenged. It faces new competitors at home and criticism of Villalonga's cozy connections. But with strong finances and market positions, Telefonica looks like a winner in the telephone wars.
SCHMOOZING. Getting to this point took persistence. The 45-year-old Villalonga, who became chairman two years ago after stints in Europe at Bankers Trust and McKinsey & Co., thought he had the perfect partners in place last April: MCI in the U.S. and British Telecommunications PLC in Europe. But that deal went up in so much cigar smoke when WorldCom outbid BT for MCI. Villalonga spent much of the past fall and winter trying to piece together another package, schmoozing with virtually every leader in the industry, from BT's Iain D.T. Vallance to AT&T's C. Michael Armstrong.
With all that behind him, Villalonga's new alliance opens up huge growth prospects in Latin America, where Telefonica already dominates. Last year, the region accounted for more than 16% of Telefonica's $15.6 billion in revenue and a slightly lower proportion of its $1.25 billion in profits. Telefonica has a monopoly in Peru and is No.1 in Chile. Its Argentine subsidiary is among Latin America's most efficient, with operating margins of 55% last year, according to Goldman, Sachs & Co.
But Villalonga's new ambitions are further north. He wants to enter the Brazilian market, which is being opened to competition later this year, perhaps in the lucrative Sao Paulo region. He'll finance this push with a $4.6 billion rights issue. Another target is Mexico. While it, too, is virgin territory, MCI provides the perfect entree: It is a joint owner of Avantel, a leading Mexican carrier. MCI and Telefonica plan a network linking Latin markets to North America and Europe within three years. The goal is regional dominance--a point not lost on the stock markets, where Telefonica's shares are up sharply (chart).
Still, Telefonica must get used to competition across the board in Spain. Retevision, a new phone company, is offering 25% rate discounts to pry away Telefonica clients--250,000 in its first two months of operation. Madrid is likely to issue a third license later this month, this one to France Telecom. With remaining barriers to fall on Dec. 1, other new rivals are surely on the way. BT, already active in Spain's cellular market, will take on Telefonica in the full-service phone business.
TIGHT GRIP. Is this cause for concern? Not really. Even BT and France Telecom will probably have a tough time breaking Telefonica's grip. Bracing for rivals, it has invested an average of $3 billion yearly since 1990. "It's a big hill to climb for local operators," says John Lilley, a telecom analyst at Dataquest Inc. in London. Retevision, a local partnership headed by Telecom Italia, wants a modest 10% of the market within 10 years. "We won't be too unhappy if Retevision meets that goal," chortles Guillermo Fernandez Vidal, Telefonica's senior vice-president for corporate business.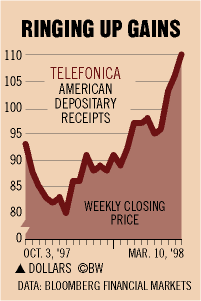 Telefonica's critics, including El Pais, Madrid's respected daily, regularly complain that it has been dealt too strong a political hand. And Villalonga, a childhood friend of Prime Minister Jose Maria Aznar, is only too happy to play his cards. While Villalonga grumbles about rulings on rate increases, Aznar's regulators at times assist as he turns the company into a multimedia titan extended into satellite TV and the Internet.
Villalonga's big worry now is beyond his control. He must stand by while the U.S. Justice Dept. conducts an antitrust investigation of the WorldCom-MCI merger. The European Commission will spend four months determining whether it will undermine competition. Promising telecom alliances have collapsed before--as Villalonga knows too well. Even if the pact holds, though, there's plenty of dealing ahead for Villalonga--and plenty of cigars.
Before it's here, it's on the Bloomberg Terminal.
LEARN MORE