Slip Slidin' Away At General Motors
How low will its market share go? A dwindling lead over Ford
Kathleen Kerwin
Last June was a grim time at General Motors Corp. The company's share of U.S. light-vehicle sales skidded to a 71-year low of 28.4%. GM executives were quick to place the blame on short supplies caused by strikes at two key plants and the startup of manufacturing of nearly a dozen new models. GM brass promised that by fall, the shortages--and the decline--would end.
They did. But not for very long. By late 1997, GM's market share bounced back to finish the year at 31.1%--a far cry from the 49% the No.1 auto maker once commanded, but enough to shore up GM's assertion that its three-decade slide in market share was over. Then came 1998. In January, sales dipped 6%, and in February 7%, leaving GM with a miserable 28.6% share. "It looks disastrous to me," declares Martin J. "Hoot" McInerney, a suburban Detroit Cadillac dealer. "When is GM going to realize the trouble it's in?"
This time, GM has run out of excuses. The heralded new models have long since arrived in sufficient numbers, along with expanded production of lucrative large sport-utility vehicles. Across the U.S. market, demand remains solid, and GM is enjoying a rare period of labor peace. Given that, some analysts figure its share will hover between 27% and 29% unless the company pours on the rebates. "I'm not optimistic about their share coming back without a lot of money being spent," says Furman Selz Inc. analyst Maryann N. Keller.
That leaves GM in a tough position. It's in danger of losing the lead to archrival Ford Motor Co. for the first time since 1931. And its 8,090 dealers, especially at such shaky divisions as Oldsmobile, badly need hot-selling cars to stick with GM. Worse, profits quickly evaporate when factories run below full capacity because of fixed overhead costs, including labor. The company's share has been dwindling faster than it can close plants, and the constant downsizing only exacerbates already rocky relations with unions.
FAT PROFITS. GM execs, who earlier this year predicted modest share gains, won't talk now. But in a press release, marketing chief Ronald L. Zarrella said that while sales of midsize cars and minivans were "very encouraging--there is no denying this is going to be a very tough, very competitive year for us." Earlier, he told BUSINESS WEEK that the company is shrinking its operations to make itself profitable at 32% to 34% market share. He admits that if GM misses that share target, it may again have to cut capacity. Already, GM has trimmed first-half production by 2.5% from last year's levels, to 2.18 million vehicles. And G. Richard Wagoner Jr., GM's president of North American operations, has hinted that GM would eventually close the Ste. Therese (Que.) plant that builds Pontiac Firebirds and Chevy Camaros if it can't make those cars profitably.
So far, investors aren't alarmed. Delighted with GM's record profits last year and enamored of its current $4 billion stock buyback, Wall Street has recently been pushing GM shares to all-time highs of $74.25. However, says Lehman Brothers Inc. analyst Joseph Phillippi: "If you look at the trees instead of the forest, this stock should probably be about 60."
So what happened to GM's comeback? For starters, the company is overly concentrated in the shrinking small-car market, where sales of its five subcompacts have tumbled 30%. Yet even in the red-hot large sport-utility segment, the Chevy Suburban is down 11% and the GMC Yukon has dropped 13%.
True, as GM's press release boasts, its five new midsize sedans--including the Chevy Malibu and Buick Century--are well above year-ago levels, but that's when these models were in short supply. Compared with the more typical February, 1996, these new models undersold the old GM midsize cars by a scary 31%. And the redesigned Pontiac Grand Prix, the first solid hit among the new cars when it was launched in summer, 1996, slipped 23% in January and February.
The sad conclusion: GM's new models are disappointments. "Not one is selling close to where it's supposed to be," says Wes Brown, an auto consultant at NexTrend Inc. For instance, since the beginning of the year, monthly sales of the three new minivans have been just under 12,500--a pace that will fall about 50,000 short of GM's 200,000-a-year-goal, he notes. Likewise, Malibu, selling about 15,500 monthly, falls short of GM's 16,000 to 18,000-unit target. "GM has a lot of new hardware but a lot of old brands," says Schroder & Co. analyst John Casesa. "It's going to take years of new products and new marketing and promotional spending to reestablish these brands."
One sign of how tarnished GM's brands have become: Chevy's sales of Prizm subcompacts fell 30% in February, as sales of near-identical Toyota Corollas, built by a GM-Toyota Motor Corp. joint venture in California, rose 4%.
All options for a fast U-turn are unsavory: Bigger rebates, subsidized leases, and low-rate financing squeeze profits. Discounting in general runs counter to Zarrella's vaunted brand-management strategy of tailoring a distinct identity for each model and commanding full price. He says cut-rate deals undermine brand image. And GM has sworn not to revert to another quick fix that backfired in the early '90s--massive but low-profit rental-fleet sales.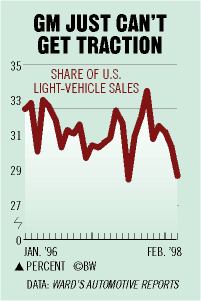 EMERGENCY MEETING. On Mar. 4, it put $1,000 rebates on its three new minivans. Dealers are getting $750 cash rebates to sell Suburban and Yukon SUVs. Pontiac/GMC on Mar. 1 announced it would subsidize a $299-a-month lease on the slow-selling Grand Prix. And the division on Mar. 10 kicked off its spring sale, offering 1.9% financing on most models. At Chevrolet, where February car sales plunged 19%, sales managers held an emergency Saturday meeting on Mar. 7 to weigh possible remedies.
The year ahead won't get any easier. GM faces formidable launches of high-volume vehicles: the new Pontiac Grand Am and Olds Alero compact cars this spring and full-size pickup trucks this summer. GM admits these startups could temporarily cut output and hurt sales.
The good news is that analysts expect the pickups and the Grand Am to be strong sellers. However, if GM can't juice up sales of the rest of its lineup, it may eventually look back fondly at June, 1997--and February, 1998--as the good old days when market share topped 28%.
Before it's here, it's on the Bloomberg Terminal.
LEARN MORE