Out Of The Fire At National Steel
by
At first glance, it's easy to see why investors have for the most part stayed away from National Steel, which has hardly budged in this bull market. The Securities & Exchange Commission has been looking into its books following allegations of accounting manipulation. And the Asian fallout has added to investor concern about earnings at National, which is 51% owned by NKK of Japan. But a second look has prompted some big players to buy into this fourth-largest U.S. integrated steel company. Here's the scoop.
These pros argue that National Steel has done a lot to turn itself around. The company slashed total debt in 1997 from $781 million to $93 million. It has started to pay a 7 cents quarterly stock dividend. "Several positive things are going on at National that aren't yet widely known," says one New York investment manager who has been accumulating shares. He thinks the SEC probe--which was prompted by National's own audit committee's restatement of earnings--will conclude in the next few months. He says the company has gotten no indication that the agency has found anything amiss. In fact, the audit that the company undertook sought to check allegations from critics of a lack of controls and improper allocation of cash reserves.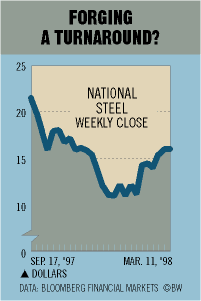 This money manager believes that once the SEC ends its inquiry, "National Steel could well be a takeover target of a larger steel company." He speculates that given the right offer, NKK may decide to "cash in its chips and sell its interest." When National made a secondary public offering of 6 million shares in January, 1995, at 16 a share, NKK sold some shares, reducing its control to 51% and its voting power to 67.6%.
Michael Gambardella of J.P. Morgan Securities says that National will likely buy back 10 million shares, or 23% of outstanding shares--nearly half its public float. The company has a cash hoard of $338 million, or $8 a share, he notes. Gambardella figures it will earn $2.40 a share this year and $2.75 next year. At 16 a share, the stock is undervalued in a group that is rebounding, say some pros.
Before it's here, it's on the Bloomberg Terminal.
LEARN MORE