How U.S. Surgical Is Healing
by
Once a glamour stock that soared as high as 131 a share in early 1992, U.S. Surgical (USS) has come back to earth since and currently trades at 34. Analysts aren't thrilled anymore by this maker of laparoscopic products, surgical sutures and staplers, and ultrasound devices. Profit disappointments, caused mainly by pricing pressure and growing competition from larger rivals, have made buy ratings from the Street increasingly rare.
But lately the stock has displayed signs of renewed life, trading well above its 52-week low of 23 reached in early December. And some traders say the stock has shown upside momentum, with volume on several days hitting more than 1 million shares--or twice its average daily volume.
Why this new interest? A longtime watcher of U.S. Surgical thinks some pros are accumulating shares on the belief that either Abbott Laboratories or American Home Products is considering a move on the company.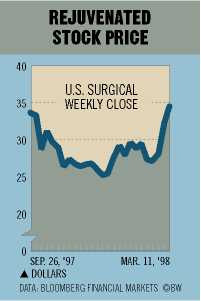 "The story makes good sense," says a money manager who invests in medical-device and health-care stocks. "Both Abbott and AHP could use new medical products for the huge markets that they serve," he adds. And they can squeeze more efficiencies from U.S. Surgical's operations, especially in distributing products to hospitals worldwide. Revenues last year were $1.2 billion. This money runner thinks U.S. Surgical is worth 50 in a buyout. Vivian Wohl of Merrill Lynch figures it will earn $1.65 a share in 1998 and $1.96 in 1999.
A spokesman says AHP is always looking for opportunities. But he wouldn't comment on U.S. Surgical, which also declined comment.
Before it's here, it's on the Bloomberg Terminal.
LEARN MORE