Finnish Cash Helps A Baltic Tiger...And Buys Some Useful Lessons, Too
William Echikson
The Eesti Line ferry sets out of Helsinki harbor every day at 8:30 a.m. Its destination: the Estonian capital of Tallinn, three hours and 80 kilometers away. Finns and Estonians share the Lutheran religion and speak related languages. But during the five decades that Estonia was part of the Soviet Union, the short journey across the Baltic Sea became a bureaucratic nightmare, and almost everyone traveled in strictly controlled groups.
Now that Estonia is a democratic nation, trade in people and products is booming. In 1993, 150,000 Finns crossed. Last year, after visas between the two countries were abolished, more than 2.5 million--out of a total population of 5 million--made the journey, with 400,000 Estonians traveling the other way. Nine ferries make 20 crossings daily between Helsinki and Tallinn, and summertime hydrofoils make the journey in a little more than an hour. "And then there are the eight flights a day," says Mati Vaarmann, the Estonian ambassador to Finland.
The traffic represents a crucial economic lifeline for Estonia. Although the so-called Baltic Tiger, population 1.5 million, grew an estimated 7% last year, its trade gap widened to about $1 billion, or 10% of gross domestic product. But this figure doesn't count many individual Finnish purchases that are smuggled back into Finland. "Our tourism and investment cover much of the trade gap," says Timo Kienanen of the Finnish Foreign Ministry. Finnish lobbying also helped Estonia win the sole Baltic seat at negotiations starting this month to enter the European Union.
Many Finns make the trip for less diplomatic reasons. Almost as soon as the Eesti leaves Finnish waters, revelers head to the bars for some serious early-morning drinking, accompanied by loud local music. For gamblers, there are slot machines. But the No.1 attraction seems to be shopping, both on the boat--where it's duty-free--and in Estonia. "Everything from food to fine art is cheaper," says tourist Vera Taglund, but most Finns stock up on alcohol and cigarettes, both heavily taxed at home.
BANKRUPT. And bargain hunters represent only the beginning of Finnish purchases. Estonia's strongest companies have listed their shares on the Helsinki Stock Exchange and have fared well. Meanwhile, some 5,000 Finnish companies, from brewer Hartwell to department store Stockmann, have set up shop in Estonia. The largest Finnish investor is Elcoteq, which builds mobile telephones for both Nokia and Ericsson. In 1992, Elcoteq took over a bankrupt Estonian TV factory and started making phones with 12 workers. Today, it employs 1,800--and accounted last year for an astounding 6.2% of all Estonian exports.
For Finnish investors, Estonia offers a pro-business environment, including a rock-solid currency, minimal taxes, liberal foreign investment laws, and no customs duties. And Estonian wages run one-eighth the level of those in Finland. Says Elcoteq Chairman and CEO Antti Piippo: "Many of our competitors went to Asia for labor costs. We found the same advantage right in our backyard."
Still, Finnish-Estonian relations are not without their tensions. Many Finnish tourists head to the Kadaka flea market to buy pirated Microsoft Corp. software and counterfeit Adidas sports gear. A full Microsoft Office package goes for about $18, about one-fiftieth the normal price. "We must clean up this trade in order to enter the World Trade Organization and the European Union," admits Ambassador Vaarmann.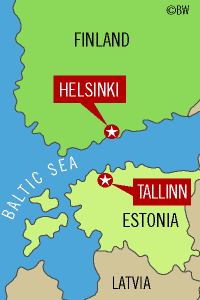 More important, these brother countries have embarked on divergent social paths. Finland has adopted the social democratic welfare state. Estonia sees itself as a lean, mean, free-market dynamo. Many Finnish visitors to Tallinn are shocked by the beggars on the streets. But after five decades of communism, Estonians savor Darwinian capitalism. Says Evald Langebraun, a Tallinn physicist turned antique-store owner: "If the government were to help people, it would become like the Soviet time again."
Finland itself faces high unemployment and new fiscal constraints. "We can't afford so much welfare any longer," says Mika Hayry, an investment analyst at Davy Protos Stockbrokers in Helsinki. So while most of the tourists still head from Finland toward Estonia, the ideological currents are starting to flow the other way.
Before it's here, it's on the Bloomberg Terminal.
LEARN MORE