Can Mitsubishi Motors Stop Its Skid?
The carmaker's president gives himself one year for repairs
by
Katsuhiko Kawasoe is the third president in three years at Mitsubishi Motors Corp. Scandals at home and abroad dog his company. Customers are steering clear of Mitsubishi models in Japan, the U.S., and Southeast Asia. And on Mar. 10, Mitsubishi Motors estimated its loss this year would be the worst for any Japanese auto maker: $859 million for the year ending this March, on sales of $29 billion. So when Kawasoe paints a dark picture of the carmaker's future, he is not exaggerating one iota. "We need to change something drastically," Kawasoe proclaims from his office. "I need to make our company sound within a year."
It's the toughest job in Japan's auto industry. Kawasoe, who became president last November, has many goals. He wants a new era of honest dealing at Japan's fourth largest carmaker, where for years senior executives hoarded information so closely that the rank and file had little idea how badly the company was doing. He wants to correct big inefficiencies in production. He wants to rethink the company's lineup of me-too models, which he calls "a black hole." He vows layoffs and salary cuts. Most of all, he wants to reverse the market's belief that this mess may be impossible to fix. "This company will die if the current slack management continues," says Takaki Nakanishi, senior analyst at Merrill Lynch Japan Inc.
Mitsubishi's plight shows just how bad things are even in the upper reaches of corporate Japan. The car company has almost $15 billion in debt, a sum four times greater than its equity. It survives on loans from banks linked to the Mitsubishi group, the mighty keiretsu to which it belongs. In that sense, Mitsubishi Motors and other Japanese blue chips may be little better off than many of the laggard divisions of South Korea's chaebol. Yet the Mitsubishi group shows no sign of cutting the lifeline: Its companies hold 70% of Mitsubishi Motors' shares and loyally buy Mitsubishi cars. And the top executives at the group still want a car company with the Mitsubishi nameplate.
Just a few years ago the future seemed considerably brighter. Mitsubishi Motors thought it could grab 15% of Japan's auto market, and 5% of the world's. After the 1995 success of the $23,000 Diamante luxury sedan and the $26,000 Pajero sport utility vehicle, executives figured they could sell everything from minicars to heavy trucks. That's a broader product line than even Toyota features, and Toyota is three times Mitsubishi Motors' size. The strategy has proved far too ambitious for a company that has enjoyed only momentary success with a few models. In Japan, market share has slipped from 11.3% three years ago to 9.7% now. Meanwhile, sales in Southeast Asia have collapsed because of the crisis. And the U.S. division is still struggling to break even after accepting $1 billion in cash injections from the parent.
At first, the 61-year-old Kawasoe did not want the job of handling this crisis. Like his father, Kawasoe joined Mitsubishi Heavy Industries Ltd. right after college. He moved to Mitsubishi Motors after Mitsubishi Heavy Industries spun it off in 1970. Until he got the top job last November, following the arrest of several executives for bribing mobsters, Kawasoe rose almost unnoticed through the ranks. Five years ago, he oversaw staff and legal matters at the car plant in Illinois--the same plant where hundreds of women have filed charges of sexual harassment. Amazingly, Kawasoe has escaped censure for the episode, which he says shocked him. Many of the suits are still pending.
Those who know Kawasoe say he is not afraid to speak his mind. "Even in middle school, he would correct the teacher in English class," recalls classmate Mitsunobu Kuwaki, now president of Hitachi Zosen Information Systems. Just two months into his tenure, Kawasoe shocked employees by openly saying the company's survival may be at stake. He has also surprised insiders with his fast moves. He has announced a factory shutdown in New Zealand and closed three assembly lines in Thailand. "If I do not do it, people will say: `What are you going to do?"' he says.
Kawasoe has jetted off to the Netherlands, South Korea, and the U.S. to tell managers how badly their operations are doing. Three days after taking office, he met with all his dealers in Japan. "He is listening to us," says Makoto Nakajima, president of Saitama Mitsubishi Colt Motor Sales. "Before, Mitsubishi used to blame problems on dealers. Now it blames its own lineup." In another gesture of openness, Kawasoe has appointed the first investor relations officer in the company's history.
Unfortunately, the roughest road test is yet to come. Mitsubishi sorely needs some hit models. It has entries in every category, and middling to low profiles in most of them. Executives hoped new cars powered by direct-injection gasoline engines, which boost mileage 30%, would rev up sales in Japan. But stodgy styling and lackluster ads failed to play up Mitsubishi's strength in technology.
So Kawasoe has sent everyone back to the drawing board. He has launched an internal review of Mitsubishi's model lineups. And soon, he will establish a special team that answers directly to him to determine a global passenger-car strategy. "People in Mitsubishi Motors believe that once we decide how much to produce, all things we produce should be sold," says Kawasoe. "It's completely vice versa. We have to focus on the market." Focusing on efficiency will help, too. He wants to cut the number of platforms used for cars from 12 to 6.
This year, Mitsubishi will try to grab back share by rolling out two new light recreational vehicles in Japan, built on car platforms for easier handling. It will also launch five new minicars this fall. In Europe, where sales are up, Mitsubishi Motors hopes to corner 2% of the market, versus 1.7% now, with more European-made sedans. Its $17,000 Carisma family car, built jointly with Volvo, boosted Mitsubishi's Europe sales 18% last year. It rolls out another European-made family sedan, the Spacestar, this fall. "Every year we will do something, otherwise we will be a loser," says Katsuhisa Sato, who oversees the venture with Volvo. In the U.S., Mitsubishi is pinning its hopes on a new, roomier Galant sedan powered by a V6 engine. But the company has to fix quality problems at its Illinois plant, and overcome its image as an also-ran.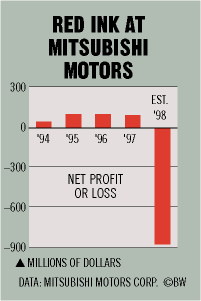 It will be tough for Mitsubishi to keep up with rivals if Kawasoe insists on launching a host of vehicles to compete in all categories. Mitsubishi's research and development budget is about half the size of Honda Motor Co.'s, according to SBC Warburg. Some analysts think Kawasoe should turn Mitsubishi into a strong niche player in recreational vehicles, give up the fight on other fronts--and even pull out of the U.S., where sales have stalled at less than 2% of the market.
Kawasoe, for now, is not taking such a drastic step. But he'd better be ready to change strategy fast if his new moves backfire. His future--and Mitsubishi Motors'--are on the line.
Before it's here, it's on the Bloomberg Terminal.
LEARN MORE