business
Why Avon Called A `Nonwoman'
In tapping Charles Perrin as CEO, the board decided its female execs just weren't ready
I. Jeanne Dugan
Ann S. Moore, People magazine's high-profile president, is familiar with juicy stories. But she never dreamed her board seat at Avon Products Inc. would land her in the middle of one. In February, as she walked into a birthday luncheon for Donna Hanover, wife of New York City Mayor Rudolph W. Giuliani, Moore drew more attention than such guests as Susan Lucci and Joan Rivers. "So how 'bout that bungled Avon CEO?" Hanover chided. Moore, who in December helped choose Avon's new leader, was disheartened. "Nobody knows the real story," she says today.
This isn't the reception Avon expected when it named director Charles R. Perrin its new chief executive. He had led Duracell International Inc. through solid global growth since 1993 and was up for several CEO jobs last year after Gillette Co. bought the battery maker. Perrin, 52, became the pivotal piece of a broader succession plan: Andrea Jung, a 39-year-old marketing dynamo, became president and Perrin's designated successor. She got a board seat, as did Susan J. Kropf, Avon's North American president and a direct-selling veteran. "I went to bed thinking we had made this cosmic move," Moore says. "I woke up speechless."
On morning shows, Avon was blasted for missing an opportunity to give a woman a shot at running the corporation--one that derives its $5.1 billion in sales from an army of women selling everything from lipstick to lacy lingerie. "Where would Avon be without women?" demanded Susan Bianchi-Sand, an equal-pay advocate, on TV. Across the Atlantic, the Daily Telegraph declared: "Duracell man powers past Avon ladies."
Insiders and analysts derided Perrin's lack of direct-selling background. The clincher came last month, with the resignation of Christina A. Gold, 50, an Avon executive vice-president many outsiders believed was a leading candidate for CEO. "There's a reason they chose me," Perrin laments. "All anybody knows is that I am the nonwoman."
How did one of the most women-friendly companies in America become a poster child for the glass ceiling? A reconstruction of Avon's search shows that despite a decade of putting women into high executive posts, when the CEO job came open, the board concluded that none yet had the experience or skills to lead Avon in a new direction.
Once the embodiment of door-to-door sales, Avon wants to remake itself into a glamorous brand sold worldwide to upwardly mobile baby boomers and hip twentysomethings. To guide the shift, Avon sought a CEO who had already run a major corporation or unit--and who had proven experience establishing a global brand. Just as important, the new CEO had to be able to fit into a touchy-feely culture that has rejected several outside execs. "We found only about a dozen people who fit the bill," Moore says.
To many outsiders, it sounds like the same old story: A woman is good enough to be a specialist or a strong No.2 to a male CEO, but never good enough to be No.1 herself. To the five members of the search committee--including two accomplished female executives--Avon is being pilloried for putting corporate needs ahead of gender politics. "As a woman, I can defend this decision to anybody," says Brenda Barnes, an Avon director, who took herself off the list of prospects when she quit her post as president and chief executive of Pepsi-Cola Co. North America to devote more time to her family. "It would have been great to have found a woman. But we did what was best for Avon."
JILTED. The search started in May, when Edward J. Robinson, Avon's president, resigned over a succession disagreement after the board asked CEO James E. Preston to postpone retirement. With six freshly minted female executive vice-presidents, Wall Street and women's groups speculated that Avon's next chief would be female. They singled out three names: Gold, Jung, and Kropf. "Everyone fell in love with the idea of a woman running Avon," says Gail Blanke, who built and then bought out a work/family consulting unit at Avon. "When people fall in love with an idea and it doesn't happen, they feel jilted."
Avon officials say they tried to squelch the hype, without success. While they considered several inside candidates, only Jung and Kropf were interviewed, they say, as were two men. "I told reporters that if they painted this as a three-way horse race they'd be wrong," Preston says. "They chose to ignore me. I said that in my lifetime a woman would run Avon. I never said the next CEO would be a woman."
Not in so many words. But it was Preston's widely publicized female fast-tracking that created the impression that at Avon, women were poised to rocket through the glass ceiling. When he became CEO in 1988, Avon's top ranks were dominated by men. Blaming Avon's financial woes on a lack of female input, Preston elevated a slew of women and drove home the message by giving up corporate baseball seats and hunting-club memberships and buying season tickets to the ballet and New York Philharmonic.
After Avon's latest restructuring, women hold a third of its officers' jobs and half of the board seats. According to Catalyst, a research and advocacy group for businesswomen, the average U.S. corporation has just one female director, and only 10.6% of officers are women. "They are an exceedingly good company for women--one of the best," Catalyst President Sheila W. Wellington says.
But all that progress failed to turn up a qualified female when it came time to fill the No.1 slot. Indeed, the most important criterion, that the candidate already have experience running a company or a major operating division, guaranteed that only a handful of women in America could even be candidates. There are only a few female CEOs of major U.S. companies, such as Jill Barad of Mattel Inc. and Marion Sandler, who shares the top post at Golden West Financial Corp. with her husband, Herbert. And women hold only 5.3% of line management positions--overseeing manufacturing or handling profit-and-loss duties--which are key to most senior promotions, Catalyst says.
"SIX DEGREES." "We were all aware of the woman image issue thing, and all things being equal, or almost equal, we would have wanted a woman," says Edward T. Fogarty, the former Tambrands Inc. chief executive who led the hunt with Moore, Barnes, Readers Digest Association Inc. Chief George V. Grune, and Charles S. Locke, the retired head of Morton International Inc.
The team did not hire an executive search firm. Instead, the board relied on its own connections. It evaluated a list of well-known female executives, from Lois Juliber, the head of operations at Colgate-Palmolive, to Ann M. Fudge, president of Kraft Foods' coffee and cereals division, and Ellen R. Marram, CEO of Seagram's Tropicana Beverage Group. Several of the directors had worked with each of these well-known female candidates personally. "This is six degrees of separation," says Moore. "There's not a woman you can name whom we don't know well. The reason Brenda Barnes and I were put on the board was to make sure the Ann Fudges of the world got due process." Although she would not assess each female prospect, Moore says: "We are all in our 40s, not in our 50s, with international experience. And one of the criteria was, `Do you want this job?' This is a hard job. We not only needed someone with experience, we wanted someone ready, willing, and able."
Several search firms acknowledged that their list of Avon candidates would not have been much broader. "We'd have the same list of 10 or 20 people, because of their specific needs," says Dale Winston, president of Battalia Winston International, a New York search firm. In the end, Moore says only one person came out on top in each of the criteria: Charles Perrin. He was, in fact, considered for the top jobs at Quaker Oats Co. and Campbell Soup Co., says Thomas J. Neff, the SpencerStuart executive handling those searches.
HOT TICKET. Why was Perrin such a hot ticket? From 1993 to 1997, when he was CEO of Duracell, its market capitalization rose from $1.8 billion to $9.4 billion. He transformed Duracell from an American brand to one that cornered half the world battery market. For Avon, he had another important quality: After working with him on Avon's board since May, 1996, Preston believed Perrin's personality would mesh well with the corporate culture. "We didn't want an Al Dunlap," Preston says. Still, having come from what Perrin describes as a "manly man" culture at Duracell, he has had to work hard to adjust.
Perrin's personality, in fact, was researched as deeply as his track record. The search team talked to dozens of employees and executives and grilled Perrin over meetings, dinners, and lunches. They probed his record at Chesebrough-Pond's USA Co., where in 12 years he rose to president of packaged goods. "Brenda and I called women who worked for him to see how sensitive he was to them," Moore says.
At the same time, they interviewed Jung, Kropf, and Jose Ferreira Jr., the president of the Asia-Pacific region, who joined the company in 1980. Jung, with a heavy marketing background, lacked experience running all aspects of a business. In 27 years at Avon, Kropf ran units in Central Europe and Russia but was short on marketing experience. Ferreira needed brand-building skills. All three say they agreed with the decision. "Never for a moment did I expect a call saying, `Susan, you're the next CEO,"' Kropf says.
One name was conspicuously absent from the internal candidates: Christina Gold, who was dubbed the "Golden Girl" as she rode Preston's promotion wave. Fresh out of college in Toronto, Gold started as a clerk in 1970 and climbed through the ranks to run Canada. Preston was so impressed that when the U.S. unit, with a third of Avon's revenues, hit a wall in 1993, he tapped Gold as its first female president.
The sales force was in revolt because their incentives had been chopped and they were being bypassed with a new direct-mail catalog. About 25,000 Avon ladies left, pulling profits down 30%. Gold sweetened rewards and added apparel and gifts, pushing up noncosmetics sales in two years from $140 million to $765 million and rebuilding the ranks.
Last year, the job was turned over to Kropf during a major shuffle designed to round out top employees. Gold was offered a job managing operations in several countries but turned it down for a job on the corporate staff analyzing what direct-selling practices worked best worldwide. She saw it as a move up. "I ran the biggest part of the corporation--the one with the most profits," Gold says. "I felt I had proven myself." But Moore says the board saw her choice as a signal that Gold was stepping out of the succession race. "Brenda and I looked at each other and said, `What is she thinking?"' Moore recalls. "She took herself out of the running for CEO."
Gold says that was not her intention. The job she took, after all, was critical, given that 98% of Avon's business still comes from direct selling. But it was not central to Avon's new strategy. The company is spending hundreds of millions of dollars on new ads, marketing, and product development to develop the sort of international name recognition enjoyed by Coke or McDonald's--as Perrin did at Duracell. Avon wants to sell on the Internet, through 800 numbers, and in chic stores like the spa and "image center" it is opening at Trump Tower in Manhattan.
"Christina had a lot of direct-selling experience," Preston says. "But we're steeped in direct-selling experience. We're going through enormous change. We needed a change in leaders." Gold resigned abruptly in February.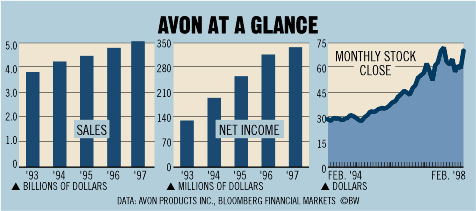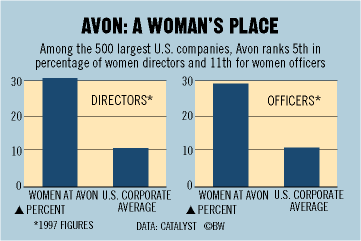 Avon's shift in direction was masterminded by a young woman who worked for Gold and then leapfrogged her. Andrea Jung, born in Toronto to Chinese immigrants, rose from Bloomingdale's management trainee to Neiman Marcus Co. exec before heading marketing at Avon in January, 1994. "The new strategy was very much Andrea's creation," says Preston. Chic and high-powered, the Princeton graduate wiped out 30% of Avon's old products and added six global brands. By 2000, the moves are designed to position 70% of Avon's products to sell consistently around the world. "She has a unique combination of left-brain, right-brain--creativity and business," says Donna Karan, who put Jung on her own board.
Today, Preston says, Jung is the "clear heir apparent." With Jung and Kropf on the Avon board, fellow directors should have a chance to gauge their thinking and personalities--as they did with Perrin. But anything can happen between now and 2005 or so, when Perrin retires. As Avon's CEO saga proves, even when the path to the top is paved with good intentions, there's no telling who will win the race.
Before it's here, it's on the Bloomberg Terminal.
LEARN MORE