U.S.: So Far, The Asian Crisis Is More Boon Than Bane
by
Consumers and homebuilders gain from lower rates and more buying power
Is the Asian crisis actually helping the U.S. economy? Before you laugh, look around. Lower interest rates are boosting housing and demand for home-related durable goods. Falling commodity prices, especially for oil, are cutting production costs. Cheaper imports are further reducing inflation, giving household buying power an additional lift at a time when wage growth is already speeding up. So where's the downside?
To be sure, plunging Asian output and its secondary impacts around the globe will slow world growth in 1998. That will cut into U.S. exports, hurting mainly the manufacturing sector. However, keep in mind that the service sector produces half of U.S. output. It also employs three-fourths of private-sector workers, and it is largely immune to the Asian flu.
Consumers have been the chief beneficiary of the Asian-crisis pluses. Households, which buy two-thirds of U.S. output, were already propped up by the strongest spending fundamentals in a generation. Now, interest rates are even lower than they would otherwise have been, especially given that the Federal Reserve was close to a rate hike last fall. Also, cheaper imports are bringing billions of dollars' worth of additional goods under the command of consumer budgets.
Still skeptical? Look at the latest data. In January, household real income rose strongly, and consumer spending was on a pace to rise at an annual rate of about 3.5% this quarter. Outlays for credit-sensitive goods are up, and in the past half-year, services have accounted for 80% of spending growth. Low rates and lively income growth will only reinforce these trends.
AND LOOK AT HOUSING, which is being pumped up by lower mortgage rates. Sales of new single-family homes soared in January, matching the 11-year high hit in November. Sales in the past three months are the best since 1978 (chart), and construction outlays by homebuilders have surged in recent months amid skimpy inventories, suggesting more gains to come.
Moreover, with consumer spending and housing powering domestic demand, manufacturers appeared to be faring pretty well in February, at a time when Asian impacts should be hitting. The nation's purchasing managers say industrial activity remained sturdy last month, and while export orders fell, overall bookings were stronger for the second month in a row.
Consumer spending began 1998 with the same gusto that was evident in the second half of last year. Real outlays for goods and services, adjusted for inflation, rose 0.3% in January, only slightly below last year's robust second-half pace. Had it not been for a 6.1% drop in January outlays for electric and gas utilities, a result of unusually mild weather, real spending in the month would have increased an even stronger 0.5%.
Households shelled out mainly for two items in January, clothing and furniture, which accounted for nearly all of the month's gain in goods outlays. The jump in clothing purchases suggests that consumers took full advantage of post-Christmas sales, making up for sales declines in November and December--two times over. The jump in furniture buying shows that stronger housing demand is lifting sales of home-related goods, a trend that will continue in coming months.
The surge in outlays for services in recent months has been especially impressive. Real service purchases in January rose 0.2%, but the gain would have been twice that except for the drop in utilities spending. In the past year, overall consumer spending is up 3.1%, but service outlays, excluding utilities, are up 4.4%.
THE FOREMOST REASON why consumer spending remains so strong is the vibrant pace of real aftertax income, which rose 0.7% in January, helped by a boost in government cost-of-living adjustments. But over the past year, real incomes have risen 4.1%, the strongest annual showing in three years (chart). Tight labor markets will keep incomes growing in coming months, and low inflation will assure gains in buying power.
Household spending will also get a lift as the benefits of past mortgage refinancings begin to kick in. Also, through Feb. 20, federal tax refunds were running 13.1% ahead of last year's pace, which will be putting even more money into consumers' hands.
Homebuilders undoubtedly are looking to the spring building season with great expectations--and rightfully so. Their February assessment of market conditions was the highest in four years, and January's strong sales back that up. Builders may even be short on inventories, which could push up prices. In January, the supply of unsold new homes fell to a record-low 3.9 months, based on the current sales pace.
Homebuilding, which added solidly to fourth-quarter economic growth, will contribute even more this quarter. January construction outlays rose 0.7%, but excluding a drop in public-sector building, private-sector outlays jumped 1.2%, after a 1.1% gain in December. Housing led the advance, but business construction also rose in January, led by industrial building and office construction.
THE FEBRUARY REPORT from the National Association of Purchasing Management suggests that, despite weakness in the foreign sector, domestic demand is keeping industrial activity chugging along (chart). The NAPM's overall index rose to 53.3% last month, up from 52.4% in January. A reading greater than 50% means that the factory sector is growing. And in February, it grew at a bit faster pace than in January, as orders, production, and employment each picked up.
One possible stumbling block in coming months is inventories, which grew in the fourth quarter at a much faster rate--$74 billion instead of $59.9 billion--than the Commerce Dept. had initially reported in its first estimate of fourth-quarter gross domestic product. Output of goods is starting to run ahead of goods demand, a situation that could lead to production cutbacks. However, inventory growth still does not appear to be excessive compared to demand.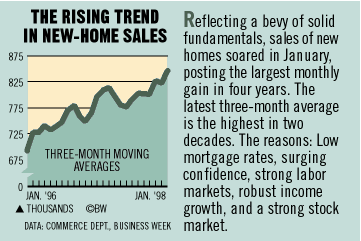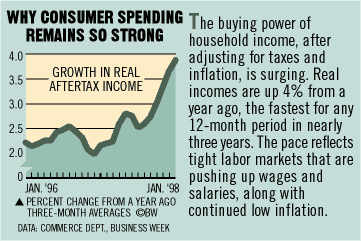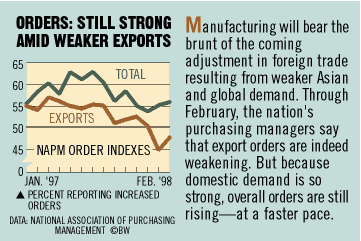 Note that a key feature of the revision to fourth-quarter real GDP growth, from 4.3% to 3.9%, was that the $14.1 billion upward revision to inventory growth was offset by a $14.5 billion upward refiguring of imports. More imports widened the trade gap, causing lower GDP growth. However, those revisions suggest that imports accounted for much of the upward adjustment to inventory growth, not U.S. output. Higher stocks of foreign-made goods would tend to lessen the impact of any inventory adjustment on U.S. producers.
Clearly, the Asian crisis is far from a win-win situation for the U.S. economy. Many U.S. multinationals and exporters will end up net losers. But all the surprises so far have been on the plus side, which explains why the Dow Jones industrial average recently pushed through 8500. Perhaps the Dow's message is: Find something else to worry about.
Before it's here, it's on the Bloomberg Terminal.
LEARN MORE