This Railroad Is Set To Couple Up
by
One huge winner in 1997 was Kansas City Southern Industries (KSU), a diversified rail holding company whose shares more than doubled--from 16 to 35. This year, KSU has continued its upward drive, partly as a result of its long-awaited announcement that it will separate its railroad and asset-management businesses. Many stockholders have taken their profits and bailed out. But not Joe Cornell, president of High Yield Analytics, a Chicago investment firm, who argues that the stock remains way undervalued and is worth north of 50.
This year, the company plans to spin off its Janus Capital and Berger Associates unit, which manages $75 billion in mutual funds. The unit is worth 36 a share in KSU stock, he figures. DST Systems, a publicly traded information processor serving financial-service companies, is 40.6% owned, and Cornell values it at 10 a share. That leaves KSU's rail operations, which he estimates is worth at least 15 a share.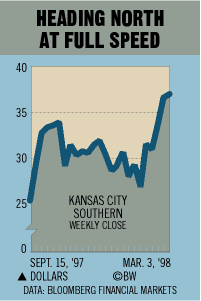 Cornell expects that after getting rid of its other assets, KSU as a railroad company will find it easier to merge with a transportation company. In a merger, he figures KSU will be worth more than 15, given the stake it owns in a Mexican joint venture which owns an 80% stake in Mexico's largest rail company, Ferrocarril del Noreste.
"Investors are currently paying very little for KSU's rail operations," says Cornell, "which will be one of the very few remaining railroads that aren't a part of a larger company." He notes that KSU's capacity to move freight from Chicago to Mexico City "could prove very attractive to a larger railroad."
Before it's here, it's on the Bloomberg Terminal.
LEARN MORE