Ready For That Job On The Street?
With plans to hire 1,200 new brokers this year, PaineWebber is desperately looking for more people like Gina Timko. For 15 years, Timko was a registered pharmacist. When she decided to switch careers in her mid-30s, she concluded that being a securities broker was a good way to make more money and use her sales skills. She was right. Today, at age 40, she earns a low six-figure income as a PaineWebber broker in St. Petersburg, Fla.
Not long ago, the securities industry recruited brokers primarily from the ranks of twentysomething college grads. But as Wall Street's bull market continues to fire up demand for financial services, securities houses are seeking out more mature people with varied professional backgrounds to build lasting relationships with clients. A top priority is hiring more women and minorities to better reflect the industry's changing customer base.
CHANGING IMAGE. As full-service firms branch out, the job description of a broker is changing. In fact, most firms have dropped the title "broker" and now use "financial consultant" or "investment executive." Anxious to reverse the image of brokers as obnoxious, overly aggressive stock jockeys, securities houses want their representatives to emphasize full service so clients don't switch to discounters or online brokerages. The new-generation brokers must fully understand their customers' financial goals and suggest appropriate investments for everything from college savings to retirement. That may mean selling insurance and mortgages in addition to stocks, bonds, and mutual funds.
There's no shortage of applicants for broker jobs. In 1997, Salomon Smith Barney received 70 applications for every one it accepted. If you make the cut, you can expect to earn about $50,000 in your first year of training and $70,000 the second. More established brokers make $120,000 to $160,000 a year, and top performers can hit $400,000. But getting to those lofty levels is no picnic. Recruits face a grueling training program of about two years, in which they're expected to pass three or four licensing exams on the first try. The most critical is the six-hour Series 7 exam, which tests knowledge of investments and industry rules and regulations.
On top of studying and attending seminars, trainees are expected to earn their keep by bringing in commissions. But the really hard work of building a customer base begins after the training period. For the first five years, many brokers work 60-hour weeks and spend six to seven hours a day on the phone making hundreds of cold calls. "The ability to accept rejection and ask strangers for money is not an easy task," says Merrill Lynch Vice-Chairman Launny Steffens, who started out as a broker at his firm more than 35 years ago.
New brokers also have to deal with salary swings. Compensation fluctuates depending on monthly commissions and the amount of new assets a broker brings into the firm. "For people who need steady paychecks, being a broker should not be a career choice," warns Jackie Day, editor of Ticker, a trade publication for brokers. Indeed, 50% to 60% of all recruits drop out within three years.
The going will only get tougher if the stock market ends its long bull run. Previous bear markets have resulted in brokers--especially inexperienced ones-- fleeing the industry. When less money flows into the market, it's harder to build a client base and generate commissions.
If you're still interested in making the career switch, your first step is to submit an application at a local branch office. Most firms have Web sites listing information about broker jobs, and some even will allow you to download an application. But the best way to get your foot in the door is to obtain a referral from an employee or even from your broker. Some firms give employees a finder's fee for referrals. PaineWebber pays a $500 bonus.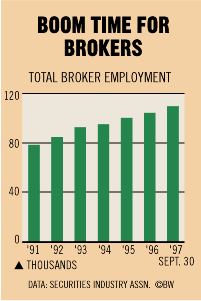 During the two- to three-month interviewing process, expect a brokerage house to size up your motivation level and ability to be a self-starter. Don't be surprised if you have to take a personality or intelligence test. Securities firms especially like applicants with a sales background in anything from retailing to real estate.
If you're leery about working in a high-pressure sales environment, another option is to get a job at a discount broker or a mutual fund. You won't make as much as you might at a full service brokerage house. But at least you won't have to twist arms for money.
Before it's here, it's on the Bloomberg Terminal.
LEARN MORE