Putting Rentrak On Fast Forward
By
What's stirring up Rentrak (RENT), whose shares rose from 3 3/8 in mid-December to 63/32 on Mar. 3? The company, which leases movie videocassettes to some 6,600 rental-retail stores in North America, is expected to double that number soon. How?
Whispers were that major video distributor Blockbuster Entertainment, a Viacom unit, will sign a pact to use Rentrak's proprietary Pay Per Transaction (PPT) system, which allows video stores and other retailers to lease videos instead of buying them. At press time on Mar. 4, Blockbuster and Rentrak announced the deal. This agreement, by almost doubling the number of outlets using the PPT system, will boost Rentrak's revenues and earnings, says one money manager.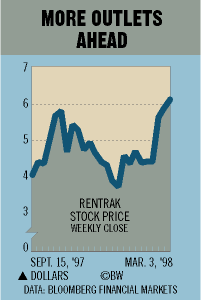 Blockbuster, has 6,000 video stores in North America. Rentrak isssued warrants for Blockbuster to buy up to 1 million Rentrak shares at 7 a share. Under the PPT system, Rentrak leases videos to rental stores for one year at about $8 per tape, vs. a purchase price of at least $60. The PPT system enables the stores to carry a higher inventory of films at lower cost. The proceeds from the rentals are divided among the store, the film studios, and Rentrak. Rentrak has distribution agreements with 40% of movie studios, including Walt Disney and Fox Group.
Exclusive of the Blockbuster pact, Tim Stobaugh of Stonegate Securities expects Rentrak to earn 59 cents a share in the year ended March, 1999, up from an estimated 36 cents in fiscal 1998.