Italy: It's Not Just The Deficit That Needs Taming
Thanks to fiscal austerity and a stronger-than-expected economy, Italy reported on Feb. 27 that its public deficit had fallen below the target set by the Maastricht Treaty. Debt outstanding, however, remains twice the Maastricht target and will prove more intractable than the government deficit.
A healthy economic rebound helped the government of Prime Minister Romano Prodi pare the deficit from 6.7% of gross domestic product in 1996 to just 2.7% in 1997. Real gross domestic product grew 0.2% in the fourth quarter from the third, and 2.8% for all of 1997 (chart). Government incentives for car buying lifted consumer spending, but exports and inventory accumulation also boosted growth at yearend.
The expansion will continue this year. The Italian research institute Isco forecasts real GDP growth of 2.4% in 1998, with improved domestic demand and further export strength. The first-quarter data look encouraging. The Confindustria survey showed that manufacturers expect that February output was up 0.5%, continuing the rebound started in 1997. Sales and orders were also expected to have risen. Meanwhile, inflation remains mild. Consumer prices rose 0.4% in February, and they are up 1.8% from a year ago.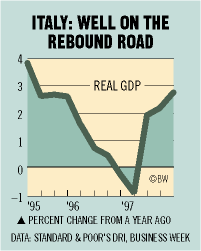 The only sour note is a drop in consumer optimism: Italy's confidence index slipped to 118.7 in February, from 120.8 in January. Households expect that the jobless rate, officially reported as a hefty 12.4% in the fourth quarter, will go higher. Even so, the confidence readings of the past two months remain above their fourth-quarter average.
Prodi has promised "a coherent policy of rigor" for future fiscal decisions. But because of past profligacy, Italy's lingering problem will be its debt outstanding which totaled 121.6% of GDP in 1997. The Treasury Minister has said the ratio will fall to 100% in six years, but private analysts are skeptical. Still, Italy's claim as a founding participant in Europe's single currency is solid, and further cuts in interest rates, probably after its entry is ratified, are expected.
Before it's here, it's on the Bloomberg Terminal.
LEARN MORE