How Long Can Bandai Keep Those Cute Little Pets Alive?
Investors are worried that the Tamagotchi fad will fade
Irene M. Kunii
They hatch. They eat. They grow. They peep. They make tons of money. They're the Tamagotchi virtual pets, brainchild of Japan's largest toymaker, Bandai Co. This year, Bandai expects worldwide sales of its digital pets to reach $330 million--more than double the 1997 amount. And that does not include the expected windfall from film, game software, and cartoon royalties. "It has been the biggest boost ever to our business," says President and CEO Takashi Mogi.
Sounds like a hit--and a hit stock. But that's where the problem lies for Tokyo's Bandai, which last year had record operating income of $110 million on revenue of $1.2 billion. Investors have driven Bandai shares down some 30% in the past six months: The stock has even trailed the poor-performing Nikkei. Turns out the market is worried that Bandai's managers cannot fix several problem subsidiaries while nurturing Tamagotchi into a long-running hit. Investors want reassurance.
A WRITE-OFF. They may be getting it. On Feb. 27, Mogi, a company veteran who has fixed ailing units in the past, announced he would dissolve the Bandai Digital Entertainment division, set up in 1995 to market the ill-fated Pippin Atmark, an Internet game console the company co-developed with Apple Computer Inc. "Pippin was dragging us down," explains Mogi, a youthful 64. Write-offs from the shutdown will produce an aftertax loss of $94.5 million in fiscal 1997 ending Mar. 31, despite Tamagotchi's stellar performance. The stock rose 7% the week of the news.
Celebration, however, may be premature. Mogi, who last June replaced President Makoto Yamashina, the founder's son, in a boardroom coup, still has to produce a new lease on life for Tamagotchi, which could eventually suffer the fate of other fads. Analysts remember how the Cabbage Patch doll triggered stampede buying, then suddenly turned into a dud. In fact, production of the virtual chick has already fallen, from 3 million units a month in mid-1997 to around 1 million at present, according to analysts. "I don't think Tamagotchi will bust as spectacularly as the Cabbage Patch dolls," says Robert Burghart, an analyst at ING Barings Securities (Japan) Ltd. "But the period of very high growth is over."
Not if Mogi can help it. First of all, he's unleashing his lawyers on local companies that import cheap Tamagotchi knockoffs to Japan. So far, the company has filed 100 lawsuits and gotten several favorable rulings. "We're determined to protect our character," says Kazuhiro Takenaka, who oversees the Tamagotchi business.
Bandai's top designers are also working to extend the franchise. Since last summer, the company has introduced in Japan three Tamagotchi games for Nintendo's Game Boy, with the first two runs of 1 million copies selling out in a month. In the latest version that just appeared, the player raises three chicks simultaneously. Last month, Bandai released Tamagotchi software for PCs in Japan, the U.S., and Europe. This variation even parks the chicks in day care.
COCK FIGHTS. Designer Aki Maita, who invented Tamagotchi, is planning new generations of pets. "We're aiming for sales of 100 million worldwide," she says. Her latest creations: the osuchi (cute male) and mesuchi (cute female) pair that schoolgirls are clamoring for. The two couple through a built-in docking device, spawning new critters. If the baby is a boy, Dad must raise him.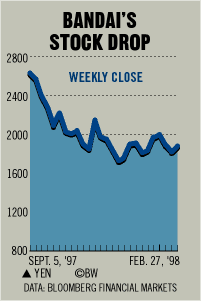 Maita's colleagues have applied a similar concept to DigiMon (digital monster), a hot item with Japanese boys just launched in the U.S. After a few days of nurturing, DigiMon is ready to attack another monster via a port that hooks two devices up. Japanese boys now get to wage the digital equivalent of cock fights with the monsters.
Sounds promising, but Bandai still remains just a flop or two away from serious profit shortfalls. As the year progresses, investors will be watching for signs of Tamagotchi fatigue--and praying that DigiMon devours all rivals.
Before it's here, it's on the Bloomberg Terminal.
LEARN MORE