At age 48, Dana Landry was bored and restless. A contract negotiator in Palm Springs, Calif., for FHP Inc., a health-maintenance organization, he had concluded his real love wasn't in insurance but in the kitchen. "I found myself much more interested in food and drink than in hospitals and operating rooms," says Landry, who grew up in food-crazy Louisiana.
So in January, after his company announced an employee buy-out, Landry took the money and began his gastronomic dream--Paris and the 103-year-old Le Cordon Bleu Cooking School. He traded in a tie and jacket for baggy pants, chunky black shoes, starched white jacket, and a tall white chef's toque. Now, on a late-winter day, he's learning to prepare a three-course feast: artichoke and shrimp salad, grilled tournedos with bearnaise sauce, and a frozen coffee parfait with a caramel and cognac sauce. His goal: to be a chef in a fine restaurant--maybe his own.
BIG BUSINESS. Landry is one of a growing number of American businesspeople--most of them men--abandoning office jobs for careers in the kitchen. And where better to learn the trade than at the Cordon Bleu, Julia Child's alma mater and the setting for Audrey Hepburn's cooking classes in the 1954 classic, Sabrina. These days, almost half the students use the school's $30,000 nine-month Grande Diplome course as a path to a new career. (The rest are hobbyists and housewives.) "We no longer have the 18-year-old girl coming here as a finishing school," says Andre J. Cointreau, the Cordon Bleu's president.
Cooking is a big business whose megastars become rich and famous, nowhere more so than in the U.S. Chef Wolfgang Puck has opened a dozen restaurants and launched gourmet lines, while PBS chef Jacques Pepin authors best-selling cookbooks. The U.S. Bureau of Labor Statistics forecasts 500,000 new jobs for cooks, many in sit-down restaurants, in the next 10 years.
So cooking schools on both sides of the Atlantic are recruiting businesspeople instead of dilettantes. The French Culinary Institute in New York, where 75% of the students are career-changers, advertises on the stock pages of financial newspapers. "We get accountants, real-estate brokers, bond traders, even army officers," says Dorothy Hamilton, president. The number of students there has gone to 800 from 175 four years ago, with a six-month waiting list.
But many go to Paris "because cooking was created here," says Landry. The luxurious Hotel Ritz has opened its own Ritz Escoffier Ecole de Gastronomie Francaise. In January, the Cordon Bleu turned away students for the first time in its history. Over the past decade, the school has opened branches in London, Tokyo, and Sydney.
Diplomas from top-notch schools almost guarantee jobs. Entry-level positions pay about $25,000 in the U.S., but an executive chef easily can take home $80,000 a year. That's a comedown for Landry, who had made $90,000, but there are compensations. "Being a chef gives you much more instant gratification than an MBA," says Landry, whose MBA is from the University of Illinois.
Right now, that gratification is hard to imagine in a hot, hurried kitchen at the Cordon Bleu. Landry arrives at the restaurant-style kitchen with its large open burners and floor-to-roof ovens at 8:30 a.m. for a 12-hour shift. "I don't have much time for Paris nightlife," he says. Pots clang and steam whistles as harried students in white livery stir sauces or slice and cut, using knives with the Cordon Bleu's distinctive blue handles.
Nearly all Landry's fellow chefs-in-training are foreigners--Germans, Japanese, and Americans. In France, where cooking always has been considered a working-class metier, would-be chefs don't attend cooking schools. They start as teenage apprentices in restaurants and work their way up to galley slave, then grill chef, and finally, 10 or 15 years later, to chef, ruling the kitchen with absolute authority. It is a system built on military precision and hierarchy.
"Almost no Frenchman would pay to go to cooking school," admits Christian Guillut, a Cordon Bleu chef, who came up the traditional way. And almost no one in this society switches careers. "A French banker would never consider becoming a chef," Chef Guillut admits. "Americans are much more flexible."
Indeed, Zev Solomon, 20, was an architecture student at Cooper Union in New York City when he enrolled at the Cordon Bleu because "the career possibilities in cooking seemed much more promising than in architecture," he says. Vern Thibodeau, 63, another student here, is a retired Louisiana cardiologist. And Susan Gosley, one of the rare women enrolled, is on leave as a Delta Airlines Inc. flight attendant.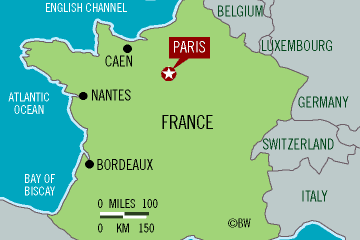 RATTLED. Learning technique isn't easy for middle-aged students. "A 17-year-old has more flexibility in his hands than a 40-year-old," says Chef Guillut. It's hard, too, cramming years of on-the-job training into nine months. U.S. and French tempers often clash in the kitchen. French cooks follow strict rules, so Americans must limit their creativity. "When I made a rabbit in mustard sauce, I arranged the dish differently than the chef," says Landry. "I thought it looked great. But he became rattled."
Landry watches Chef Guillut pour a bearnaise sauce over a steak. "That's much too rich for American tastes," Landry whispers. "A grilled fish would be more appropriate." But for now, Landry will copy every detail. Checking his creativity is a small price to pay to become, perhaps, a new Wolfgang Puck.
Before it's here, it's on the Bloomberg Terminal.
LEARN MORE