Commentary: Why Didn't Gm Do More For Saturn?
Kathleen Kerwin
Tom Sawyer would be amused by Saturn. The carmaker's recent TV commercials show cheerful workers and managers, side by side, painting fences outside their Spring Hill (Tenn.) factory. What the folksy ads fail to mention is that workers took up their brushes only because Saturn's cutback in production of slow-selling small cars last fall left them with plenty of time on their hands.
Saturn workers may have time for a lot more sprucing up this year. Sales at General Motors Corp.'s showcase car division were down 20% in January from a year earlier, after tumbling 10% for all of 1997. First-half output has been slashed by 21,000 cars, or 14%. And workers, dissatisfied as their bonuses shrink with sales and profits, will vote on Mar. 10 and 11 whether to revoke their groundbreaking cooperative labor pact.
VICTIM? GM execs just shake their heads and argue that Saturn is a victim of the dwindling small-car market. "The market for small cars has just dried up completely," says GM Chairman John F. Smith Jr. That's certainly true--as far as it goes. To get around the slump, GM is counting on sharper marketing. It also plans to add about a third more dealerships, bringing the total to about 500.
But Saturn shouldn't be wholly dependent on small cars--and if the division comes to a dead end, GM will have squandered an epic opportunity. Give the No.1 auto maker credit for accomplishing the hard part--launching from scratch a division that has been Detroit's one smashing, cross-generational victory in the war to win back import buyers. But rather than doing everything possible to build on that success, GM is now letting Saturn wither on the vine. It has allowed sibling rivalry to smother Saturn, delaying and denying additions to its lineup while favoring fading brands with new products.
By limiting Saturn to a single small car, in sedan, coupe, and station wagon versions, GM is crippling its best hope for winning and keeping new customers. Saturn needs a minivan and a larger car. With its unconventional image and the huge reservoir of good will it inspires among consumers, Saturn would be an ideal candidate to launch an innovative, car-based sport-utility vehicle, like Toyota's RAV4 and Honda's CR-V.
No other mass-market car division is expected to survive on sales of just one model. Saturn's limited lineup forces even satisfied customers to defect. Dan Nogal's family of four outgrew their beloved Saturn wagon, so a few weeks ago they traded it for a used Plymouth Grand Voyager. "If Saturn had a van or even a midsize car, I probably would have bought from them," says the Las Vegas human resources manager. Furman Selz Inc. analyst Maryann N. Keller worries that as profits dwindle for Saturn dealers, they'll have a hard time maintaining the service standards that earned Saturn a sterling reputation.
It's that reputation that makes Saturn's woes more than just another Big Three stumble. By offering luxury-brand levels of quality and service and forging a bond with consumers, Saturn inspired cultlike devotion. In 1994, 44,000 Saturn owners turned out in the rain for a homecoming weekend in Spring Hill.
So why is Saturn still a one-trick pony? In the early '90s, when GM was struggling to remake itself, it decided to pump billions into new models intended to revive Oldsmobile and Buick, instead of more Saturn models. There wasn't enough cash to do both, execs say. So while GM has introduced 15 new cars and minivans in the past 18 months, Saturn's cupboard is almost bare.
Buick, Olds, and Cadillac--fettered by stodgy images they've had trouble shaking--struggle to sell snazzy new vehicles such as the Regal, Intrigue, Silhouette minivan, Bravada SUV, and Catera. Many analysts believe similar models would fly out the doors at Saturn.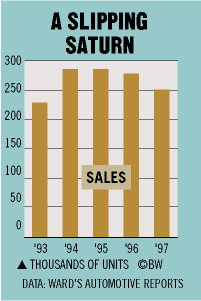 In 1996, GM finally agreed to give Saturn a new, larger car--a compact sedan dubbed the LS. But it won't arrive until mid-1999. Meanwhile, Saturn risks losing more luster. Unfortunately, GM can't simply borrow a model from another division. To speed new models to market, however, it could begin designing Saturns that share a platform and key components with other GM vehicles.
GM is hinting it may eventually give the division a new SUV. Saturn needs that--plus a minivan and another larger car. Sadly, by the time those models arrive, three or four years from now, GM's upstart division already may have painted itself into a corner.
Before it's here, it's on the Bloomberg Terminal.
LEARN MORE