Chainsaw Al Goes To Camp Coleman
Sunbeam's chief will try to halt the outfitter's slide
De'Ann Weimer
Hours after Sunbeam Corp. Chief Executive Albert J. Dunlap unveiled his planned $2.5 billion trio of acquisitions on Mar. 2, the CEO of Coleman Co., the largest of the targets, jetted from New York to Wichita to comfort his troops. After all, Dunlap is famously intolerant of underperformers--and Coleman has been anything but stellar. Coleman CEO Jerry W. Levin, who is based in New York, faced unhappy campers in the Heartland. "We all feel bad we didn't get to play out our hand," he says. "But at the price we were offered, it was a great deal for shareholders."
True, at 35 7/16 on Mar. 4, Coleman's stock is more than double its yearend price of 16 1/16. But the deal may not be so great for the 90% of Coleman employees without stock options. In a Mar. 2 conference call, Dunlap told analysts that the companies he is buying--Coleman, First Alert, and Signature Brands--"are not very different from the old Sunbeam or other companies I've done." Dunlap's prescription for Sunbeam included closing 18 factories, halving head count, and slashing product lines--lending further credence to his nickname, "Chainsaw Al." So employees may be right to worry about his plans for Coleman.
WEAK YIELD. How did Coleman come to this pass? It owns some of the top brand names in outdoor recreation in the U.S. and Japan--including Eastpak backpacks and Coleman itself. But it has not lived up to the potential those names afford. Indeed, Coleman, 83% owned by Ronald O. Perelman's MacAndrews & Forbes Holdings Inc., has been an unspectacular part of the mega-investor's portfolio. Perelman bought Coleman in 1989 for $545 million. Until the sale, it accounted for a chunk of the debt on his books.
Allowing for the Coleman debt, Kevin M. Kuzio, an analyst with KDP Investment Advisors in Montpelier, Vt., estimates Perelman made $814 million on the Mar. 2 deal. That would be just $269 million more than he invested initially. A Perelman spokesman says that "our profits were well in excess of $1 billion" if the proceeds from Coleman asset sales and spin-offs are included.
However you crunch the numbers, it's clear that Coleman has been running into trouble, posting losses for the past two years. Retailers and rivals say the company jumped the track under CEO Michael Hammes, who took the Coleman name downmarket with a proliferation of backpacks, coolers, lanterns, and tents sold through mass market retailers. "They seem to have gone completely for the white-trash market," says Michael Fowler, vice-president for operations at Uncle Dan's, a Chicago-area camping retailer. Fowler complains that quality has slipped, so he now limits his purchases to stoves, lanterns, and cheap accessories.
Then there were problems overseas. Coleman has strong distribution in Europe and Asia, but its sales there stalled in 1997. Indeed, to reduce inventory backlog, it didn't ship anything new to Japan during the second quarter, usually its strongest. Coleman added market share in Europe with its 1996 purchase of Germany's Camping Gaz. But the deal drove its debt levels over $400 million, with little earnings payoff. Coleman was also hurt by troubles in Asia, once its fastest-growing market.
To try to repair the damage, Perelman dumped top management at Coleman, sending Levin, a longtime lieutenant, back to be chief executive after a term at the helm of Revlon. Levin cut 1,000 workers, closed four plants, eliminated a third of Coleman's products, and began selling off units to pay down debt. Losses in 1997 were trimmed to $2.5 million, and margins rose 8%. But then along came Dunlap's offer, giving Perelman an exit.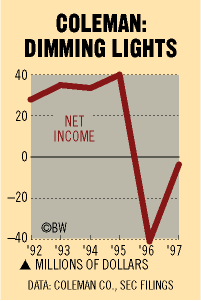 And now? Dunlap is setting aggressive margin targets of 20%--far above Coleman's historic high of 13.4%. That will probably mean additional cuts in Coleman's product line. And, Levin says, Sunbeam may move some of its manufacturing to Coleman's Wichita plant and close more of Sunbeam's facilities. "They are going to do things we couldn't do on our own," he says. Sunbeam also expects to use Coleman's overseas distribution channels for its wares.
Dunlap is out to prove that Coleman can be a useful tool in his rucksack as he builds a global consumer-products company. That's probably bad news for many Coleman workers.
Before it's here, it's on the Bloomberg Terminal.
LEARN MORE