business
Beware The Trades Of March
Signs point to a `short and nasty pullback' for the stock market
Jeffrey M. Laderman
Investors can rest easy on the Ides of March this year. It falls on a Sunday. But they need to be wary of days when the stock market is open. Wall Street soothsayers warn that there's trouble in the alignment of record-high stock prices, a backup in interest rates, and a slowdown in corporate profits growth (chart). All told, the March market could take back a chunk of February's gains.
That wouldn't be a disaster. After all, the Dow Jones industrial average jumped 639 points, or 8.3%, last month, the best February since 1986. By itself, the stock market's monster momentum--the Dow is up nearly 1,000 points since its Jan. 9 low--should keep prices climbing in March.
But markets that get airborne early in the year often fall back in March. Last March, the Dow dropped 4.3%; in 1994, the loss was 5.1%. "We could get a short, nasty pullback of 5% to 10%," warns John L. Manley Jr., equity strategist for Salomon Smith Barney.
The market's big gains this year come from three factors: the strength of the U.S. economy, continued low inflation, and a belief that the Asian crisis has been contained. "The IMF, [Treasury Secretary] Bob Rubin, and the bankers handled the liquidity crisis aggressively and competently," says Charles Pradilla, investment strategist at Cowen & Co.
But that may not be the end of the story. "Now, we have to deal with the economic impact of decelerating growth in Asia," says Pradilla. The Street may get a hint of that soon, when companies that expect bad first-quarter profits start announcing the disappointments ahead of the actual earnings reports.
NOTORIOUS. Indeed, analysts have been slashing their profits forecasts for months. In early January, they predicted that profits for the companies in the Standard & Poor's 500-stock index would show a 10.4% gain over the first quarter of 1997, according to data compiled by First Call Corp. Now, the estimates have been more than halved, to 4%--and the cutting isn't over. "March is notoriously bad for earnings revisions," says Salomon's Manley. "Even if the quarter turns out all right, we're going to get a lot of bad news before we get the good."
The soft earnings might not hurt much if interest rates were still coming down. But they're not. In fact, the very resiliency of the U.S. economy that brought the market to record levels is also pushing interest rates higher. The yield on 30-year U.S. Treasury bonds bottomed out at 5.72% in early January and is now back over 6%.
Some pros worry that the winter rally made investors far too complacent about the Asian mess. Beth Cotner, who runs the Putnam Investors Fund, believes shareholders in Citicorp might be in for a rough time. The bank, which gets about half its revenue from developing markets, saw its stock fall from $144 a share before the October crash, to $112 in early January. But it's now just $12 below its old high. "The peak price was set at a time when the market seemed to have no doubt about Asia," says Cotner. "Now there is plenty of doubt and many defaults to come, and the current price doesn't reflect that."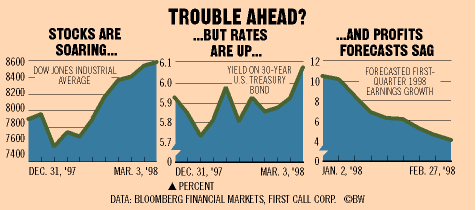 Nor have U.S. manufacturers felt the full effects of Asia's woes. The surge in exports has yet to materialize because of delays in obtaining export financing and lining up distribution. "Time will solve those issues, and then we'll see the pickup in imports and erosion in profit margins from import competition," says Greg A. Smith, investment strategist for Prudential Securities Inc. That impact may not hit until April or May, says Smith, and it could put second-quarter profits under pressure as well.
So far, none of these problems seriously threatens the long-term bull market. But with stock prices and price-earnings ratios at all-time highs, the mix of higher interest rates and lower earnings does not bode well for the market's short-term health.
Before it's here, it's on the Bloomberg Terminal.
LEARN MORE