Beating Swords Into Plowshares...With Deft Help From A Rebel Priest
When Guatemala's 36-year-long civil war ended with a peace agreement 14 months ago, guerrillas emerged from the jungle-clad mountainsides and some of the 1 million refugees started coming home. Nearly 3,000 rebel fighters, many of them teenagers, handed over their weapons. The government planned to use some $1.9 billion in promised international aid to help rebuild the country. Former Jesuit priest Enrique Corral Alonso, 52, who lived underground helping the guerrillas for 18 years, now heads a foundation that helps rebels make the transition to civilian life. "It has been difficult for everyone to get accustomed to using their real names and living outside the jungle," admits Corral.
And they're not the only ones making a wrenching adjustment: The whole country is being transformed as it takes steps to join the world economy. The capital boasts unmistakable signs of modernization: Foreign franchises such as McDonald's, TGIFriday's, and the Rooms to Go furniture chain have popped up all over. Executives carry cell phones and beepers. High-tech companies are investing: Wireless Cable & Communications Inc. of Salt Lake City is building a $5 million wireless network, its first investment outside the U.S. About 220 maquiladora factories, mostly making textiles and garments, employ about 50,000 people. The country is diversifying away from traditional export crops such as bananas and coffee and into premium winter vegetables and fruit.
To be sure, this nation of 11 million remains one of the poorest in the hemisphere, with a per capita income of just $1,300 a year. But gross domestic product growth has averaged 4% annually over the past five years, and President Alvaro Arzu, a successful tourism entrepreneur who has packed his Cabinet with fellow businessmen, hopes to boost that to 6% by opening the economy and attracting foreign investment through an ambitious privatization spree. Last year, the national rail system was leased to Pittsburgh-based Railroad Development Corp. for 50 years. Seaports, power plants, and airport concessions are slated for sale. But the state has run into problems attracting a high enough bid for its biggest prize: Telgua, the national phone company. Officials plan a new round of bidding this month, with a decision expected in June.
TIMETABLE. On the trade front, officials are lobbying to win NAFTA-style U.S. tariffs for goods made in Guatemala and other Central American and Caribbean nations--so far to no avail. Creation of a Free Trade Area of the Americas (FTAA) throughout the hemisphere would be a godsend. The presidents of 34 Latin American nations will meet in Santiago, Chile, in April to set a timetable for creating the FTAA by 2005. "It's difficult for small countries like us to set the pace or the vision," concedes Economy Minister Juan Mauricio Wurmser. "Our biggest challenge is to make sure Guatemala and the rest of Central America find a way to fit into the new global economy."
Even Corral, the Spanish-born priest-turned-rebel, says the country's former insurgents realize that Guatemala must open up to the world in order to correct historic injustices. "The market opening is good if it means we can have economic growth," says the soft-spoken, gray-haired man. "We can't move ahead if we are isolated."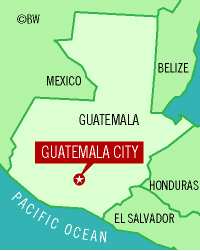 On a recent Saturday morning, Corral greeted a dozen former guerrillas at a two-story house in Guatemala City, headquarters of the Guillermo Toriello Foundation, which he runs and which helps ex-soldiers find schooling and job training. Bernabe Salazar, 47, was an illiterate peasant when he joined the guerrillas at age 29, leaving behind his pregnant wife and two children. His family later fled as refugees to Mexico. For 17 years, Salazar fought with the rebels, rising to regional commander and finishing junior high school. Now he's helping younger compadres finish their education. In a few years, he plans to go back to his hometown south of Guatemala City and start farming again. "The struggle was not in vain," he says. If the peace accords are fully implemented, complete with land reform and more spending on education and health, "we'll be looking at an entirely new Guatemala." After 36 years of war, that's almost too much to hope for.
Before it's here, it's on the Bloomberg Terminal.
LEARN MORE