A Tremor In South Africa's Mines
South African gold is a losing venture--and labor is angry
Kathy Chenault
These are desperate days in South Africa's gold fields. Bullion prices plummeted to an 18-year low of $278 per ounce in January, slashing mining company profits and forcing worker layoffs of nearly 50,000 in 1997 and 13,500 already this year. Despite a summit at the end of February involving the Chamber of Mines, the National Union of Mineworkers (NUM), and the government to discuss the mounting crisis, industry mavens doubt any quick fix is possible.
Amid fears of a union-led political backlash that could shake President Nelson Mandela's governing African National Congress (ANC) party on the eve of elections in 1999, the summit formed a crisis committee to evaluate downsizing plans at the Chamber's 26 member mines. Mine owners agreed to suspend layoffs until the committee began work, scheduled for Mar. 6, averting a threatened series of 24-hour strikes. But labor gave up its demands for a 12-month freeze on job cuts. Any resumption of layoffs would doubtless spark an angry reaction from 1.7 million workers in the Congress of South African Trade Unions.
With the national unemployment rate already more than 30%, anger and despair are close to the surface. NUM President James Motlatsi warns that his members are sure to label the summit "a sellout." And even the brief hiatus in layoffs had mine owners moaning. "Every day you remain undecided costs megabucks," says Willie Jacobsz, corporate affairs manager at Gold Fields Ltd. But since the committee lacks any legal power, industry experts fear it will become just a debating club. "South African gold mines, on average, are unprofitable at the current gold price," says SBC Warburg gold analyst John Reade. "Committees don't change that."
Indeed, aging mines with depleted ore reserves and rigid management, inherited from apartheid days, plague the industry and keep production costs high. The country's gold output fell from a peak of more than 1,000 tons in the early 1970s to 492 tons last year. Worse yet, even with employment sinking 35% from 1990 (charts), production costs have soared 80%, to $291 per ounce. Michael Chapman, co-portfolio manager at U.S. World Gold Fund estimates that the average cost of producing an ounce of gold in North America mines is only $200. Costs at some new mines in Latin America are less than $100.
Just visit Gold Fields' Libanon mine outside Johannesburg, for example, to see how far behind South Africa's mines have fallen. Crews take so long to reach rock faces as deep as 8,200 feet that they actually work as little as three hours in an 8 1/2-hour shift. At Anglogold of South Africa's Freegold mine, its least efficient operation, costs are over $300 per ounce even with a 50% cut in its work force. Right now, many mining companies would actually save money by stopping production. That's leading some analysts to suggest that a prolonged strike might not be a bad idea if it could put some glitter back into gold prices. But Chamber spokesman Llewellyn Kriel scoffs that the idea amounts to "kamikaze marketing" that would hand market share to rivals.
BOWING TO REALITY. Meanwhile, pressure on the industry is driving a consolidation wave. Anglogold, a subsidiary of Anglo-American Corp., for instance, is in the midst of melding all or parts of 11 companies in several countries, from South Africa to Mali. It is set to become the world's biggest gold producer, with a market capitalization of $4.2 billion.
The consolidation means faster-paced downsizing. The NUM fears that 50,000 to 100,000 of the industry's remaining 300,000 jobs could vanish this year alone. The threat is prompting labor to rethink its long resistance to more flexible work schedules, seven-days-a-week mining, and mechanization. Last September, for instance, the NUM signed a contract that links pay raises to productivity. It decided to drop the job freeze demand at the summit, says Motlatsi "to avoid a battle."
Labor's willingness to bow to reality and accept once-unthinkable concessions may be the gold summit's main accomplishment. Says Chapman: "The mining industry has been in decline for 15 years, and people are starting to realize this." But the NUM failed to win government promises of subsidies to help ailing mines. All it got was a vague pledge to study subsidies.
Instead, the government is trying to shore up the gold price by jawboning. In February, at the World Economic Forum in Davos, Switzerland, Deputy President Thabo Mbeki pleaded with European central bankers for help. He asked them to end speculation that they plan to dump gold once Europe adopts a single currency in 1999. Mbeki says he was encouraged by the response--the Bank of France, for one, has said it doesn't plan gold sales. But it's clear that the European Union will eventually need less gold to back its currency.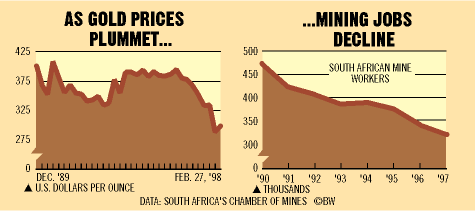 The woes of the industry in South Africa are bad news throughout the region. South African mining companies draw workers from Botswana, Lesotho, Mozambique, and Namibia. When immigrant workers lose their jobs, the companies pay to send them home.
But if there's an explosion of anger, the prime victim will be South Africa. Already, emotions are at a breaking point. On Feb. 24, for instance, 13,000 NUM members tried to march in downtown Johannesburg to protest peacefully against layoffs. They got mixed up in an unrelated clash in which striking security guards fought police. That wasn't a good omen for what could be a year of confrontation.