U.S.: If Growth Becomes Subdued, So Will The Fed
But Greenspan tells Congress he's wary of the economy's momentum
by
Federal Reserve Board Chairman Alan Greenspan's semiannual defense of monetary policy in front of Congress has become about as easy as it gets. Given the economy's exemplary performance in 1997, the only testimony necessary was to say that the economy grew 3.9%, inflation fell to 1.9%, the unemployment rate fell below 5%, and the Fed barely had to raise interest rates. Piece of cake.
That's pretty much the way it went as financial markets around the world tuned in to Greenspan's Feb. 24-25 Humphrey-Hawkins testimony on Fed policy and the economy before the House of Representatives and the Senate. In addition, the chairman discussed the reasoning behind last year's policy decisions and laid out the Fed's economic forecast for 1998 (table). Taken altogether, his remarks go a long way toward revealing how 1998 policy is likely to evolve.
Policy this year will depend critically on the Fed's forecast of moderating economic growth. Specifically, Greenspan said, "the key question going forward is whether the restraint building from the turmoil in Asia will be sufficient to check inflationary tendencies that might otherwise result from the strength in domestic spending and tightening labor markets." That's Fedspeak for, "If Asia doesn't slow the economy, we're going to have to."
In fact, February data on soaring consumer confidence, robust retail activity, and lower unemployment claims show that domestic demand and the labor markets are as strong as ever. And lower energy prices are keeping the Labor Dept.'s revamped consumer price index in line, a trend that adds to workers' buying power.
HOWEVER, GREENSPAN ALSO SAID the outlook embodies the expectation that any inflationary effects of tight labor markets will largely be offset by "healthy productivity growth, flat or declining import prices, and little pressure in commodity markets," along with technical adjustments to the CPI. If all those assumptions are borne out, there will be little reason for the Fed to do anything for the rest of the year.
Rapid productivity gains continue to play a prominent role in Greenspan's thinking--and in policy decisions. In fact, he said the pickup in productivity growth in recent years is probably greater than can be explained by usual business cycle forces. Greenspan is clearly suggesting that the economy may be close to a new threshold of noninflationary economic growth.
Faster productivity growth was one of four reasons Greenspan offered for why, despite continued tightening in the labor markets, the central bank did not lift interest rates in 1997 after its quarter-point nudge in March. The other explanations were the appreciation in the dollar, weaker commodity prices, and a passive tightening that resulted when real short-term interest rates were pushed up by falling inflation. Greenspan said higher real rates were "by no means inadvertent."
UNLIKE MANY OF his murkier Fed speeches, Greenspan's talk this time was very clear on his concern about the future strength of domestic demand--and with good reason. The latest data show that consumer fundamentals remain solid, and households are responding by increasing their spending further.
In particular, consumers are the most optimistic they have been in a generation, according to the Conference Board. The board's index of consumer confidence jumped 10 points, to 138.3, in February, the highest reading since October, 1968 (chart). The part of the index that covers consumers' current economic situations surged from 159.3 in January to 172.5, while expectations for the future rose from 107.7 to 115.6. A rosy job outlook seems to be more important to consumers than any foreign dilemmas or domestic political scandal, said the board.
The healthy job market and low inflation are boosting household buying power. Real earnings rose 0.9% in January, 3.4% above their year-ago level. Income growth was one factor that Greenspan pointed to when he said that "domestic demand retained considerable momentum at the outset of this year." And that claim was supported by weekly store surveys that show retail sales are up strongly in the first three weeks of February.
For now, at least, the Fed's forecast partly depends on a widening trade deficit to neutralize the might of domestic demand. That may be already happening. The trade gap worsened by an unexpectedly large amount in December, when the deficit rose to $10.8 billion, from $8.7 billion in November. Although December exports rose a respectable 1.3%, imports surged 3.6% to another record of $90.8 billion.
The larger-than-expected December deficit means that economic growth last quarter was less than the 4.3% rate originally reported. The drag from trade will continue in 1998. Signs of weaker export demand from Asia are starting to show up, and the dollar's strength will continue to push down import prices.
CHEAPER IMPORTS, HOWEVER, are a big reason that Greenspan sounded optimistic about the inflation outlook. CPI revisions are another consideration. Greenspan acknowledged that "technical adjustments [will shave] a couple tenths from the published CPI." Such adjustments, which are ongoing at the Labor Dept., already have trimmed about three-tenths of a point from annual inflation since 1995.
Starting with the January release of the CPI, which showed no change in the prices of goods and services, the Labor Dept. has reorganized the categories in the index and refigured their weights, using consumer surveys of spending habits from 1993 to 1995 that replace buying trends from 1982 to 1984 (table). One big revision was an explicit weighting given to computers, which previously were lumped into a broader category. Computers and related equipment make up less than 1% of spending, but their prices have dropped 13.6% over the past year. Further price declines will offset increases in other prices.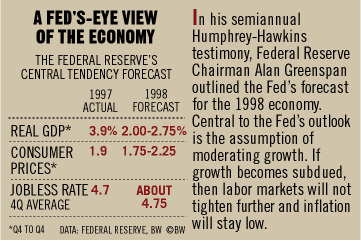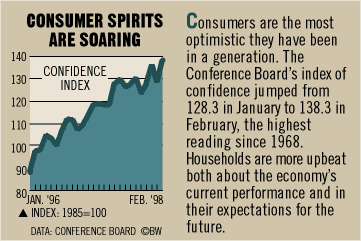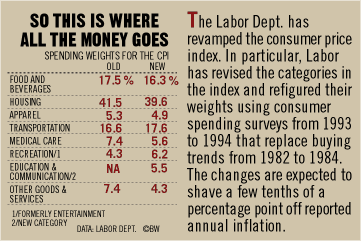 Those increases are most likely to come in service prices. "Providers of services appeared to be more pressed by mounting strains in labor markets," said the chairman. And rising labor costs may force some service companies to raise prices. Also, the robust housing market is beginning to lift housing costs and rents, and shelter has the biggest weight in the CPI.
In discussing the outlook, Greenspan noted that the unknown effects of the Asian crisis meant that the Fed forecasts "are more tentative than usual." But while the chairman noted significant risks on both sides of the outlook, he appeared to be more concerned about a stronger-than-expected economy. And if the data remain as powerful as they have been recently, that concern may well be justified.
Before it's here, it's on the Bloomberg Terminal.
LEARN MORE