Marriage? Commerzbank Just Isn't Ready
But as other Eurobanks merge, a deal may be inevitable
Joan Warner
In the mating dance among German banks, Commerzbank wants nothing more than to remain a wallflower. Long the respected No.3 after Deutsche Bank and Dresdner Bank, Commerz will slip to fifth place later this year because of mergers among its peers. Although it looks like a natural takeover target, and rumors routinely fire up its stock price, management insists Commerz can go it alone. "While I feel honored that everyone thinks we are attractive, I don't see any need to merge," says Commerzbank Chief Executive Martin Kohlhaussen.
That may be wishful thinking. With assets of $288 billion, Commerz is less than half the size of Deutsche Bank. True, it's Germany's most profitable lender. Its operating profits after provisions for bad loans gained by double digits for each of the past five years and rose 24% in 1997. But Commerz' global equities and asset management operations are tiny compared with those at financial combos such as Deutsche Morgan Grenfell Inc. and SBC Warburg Dillon Read Inc., and those on Wall Street. Stiffening competition and the coming of a single currency to Europe will force even more banks into one another's arms. Those that stay single will be hard-pressed to keep up. "It's very unlikely [Commerz] will survive as an independent entity," says Mark Hoge, banking analyst at Credit Suisse First Boston in London.
RUMORS OF A MATCH. Commerz has no controlling corporate shareholder to help fend off a bidder. Hostile takeovers are rare in Germany, but the tradition of cross-shareholdings among banks and companies makes friendly strategic ties attractive. So many market watchers believe that Commerz will eventually bow to the inevitable.
Investors already assume that a merger is in Commerz' future. Its stock price almost doubled in the past year, to $36, and last August it briefly spiked to around $40 on rumors that Deutsche was about to make an offer. It didn't, but the stock is still 57% above its low of $23 last March. "The market is already pricing in a deal," says Anna Powell, senior portfolio manager with LGT Asset Management in London.
Some observers think Deutsche could begin courting Commerz if archrival Dresdner teams up with the new Bavarian giant, Bayerische Hypotheken und Vereinsbank. That would make Dresdner No.1 in Germany, forcing Deutsche to play catch-up. Other banking experts think Dresdner is a likelier match for Commerz, as the two are closer in size and both would prefer a merger of equals. Such an arrangement would require the assent of insurance giant Allianz, a major Dresdner shareholder. Allianz declined to comment.
Commerz could also join forces with Credit Suisse. It's under pressure to bulk up after the merger of Union Bank of Switzerland and Swiss Bank Corp., and has expressed interest. The Frankfurt bank is a big distributor of insurance from Winterthur, which Credit Suisse owns. But any foreign buyer would need deep pockets. Merrill Lynch & Co. banking analyst James Hyde figures only Holland's ING and Britain's HSBC Holdings PLC are rich enough to buy Commerz without raising additional capital. And Kohlhaussen points out other hurdles. "Twenty years from now, I wouldn't exclude the possibility of cross-border mergers," he says. "But now, there is no common tax or political policy in Europe. So what would be the synergies?"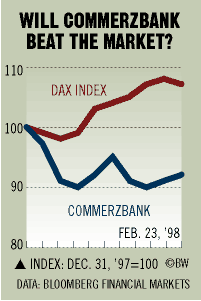 At the center of all the speculation, Commerz is planning to lift its return on equity to 15% by 2000, from about 11% now. It will continue to shrink its marginally profitable domestic retail network and expand in global equities. To that end, Commerz has been shopping for talent made available by cutbacks at BZW Ltd. and UBS. The strategy is risky. Kohlhaussen hopes that by 2000, the equities unit will deliver annual profits of $218 million, up from $10 million today. But by then, Commerz will be spending nearly $375 million a year on the unit, estimates Sanford C. Bernstein & Co. Commerz also is looking to asset management to boost profits. Its purchases of Britain's Jupiter Tyndall and California-based Montgomery Asset Management raised funds under management to $93 billion in 1997 from $50 billion in 1994. The unit's return on equity was more than 50% last year, Kohlhaussen says.
With expansion in Poland and Russia to boot, Kohlhaussen claims Commerz can remain self-sufficient. "Who knows whether the formation of huge banks is the right thing to do?" he asks. "We believe not." Yet even sound planning and good results may not save Commerz from the destiny awaiting more and more of Europe's banks.
Before it's here, it's on the Bloomberg Terminal.
LEARN MORE