In Reverse At Nissan
It has fallen way behind Japanese rivals in the U.S.
Larry Armstrong
For a while there, it looked as if Nissan Motor Corp. USA had gotten its act together. After the dog days of the early '90s, it launched its first successful family sedan, the Altima. The bread-and-butter Nissan brand pulled ahead of the archrival Honda line in 1993, and its Infiniti luxury cars continued to rack up impressive annual gains. Then, 18 months ago, it launched $200 million worth of edgy image advertising designed to put the Nissan name more firmly on the map. The prize-winning series featured the happily enigmatic "Mr. K" and his sidekick Jack Russell terrier.
That picture of progress began to unravel in 1996, when Nissan's market share dipped from 5.2% to 5%. And in 1997, Nissan shifted into reverse. Despite a healthy North American car market and the advantage that imports gained from the rising dollar, Nissan sales slipped nearly 3%, to 728,377 vehicles. Meanwhile, Toyota Motor Corp. sales rose 6% and American Honda Motor Co.'s, 11%. Both companies posted North American sales records. Now, says George Peterson, president of market researcher AutoPacific Inc., Nissan isn't "really a first-tier Japanese competitor anymore."
REVOLVING DOOR. Nissan has two big problems: uncompelling products and unstable management. The latest change came on Feb. 20, when Minoru Nakamura, president of U.S. holding company Nissan North America Inc., announced the early retirement of three key execs--including the general manager of the Nissan Div., which does an estimated $15 billion in sales a year. That division's new chief, who will take over on Mar. 2, will be the third in less than three years. The revolving door at Infiniti--where sales rose 17%--is rotating even faster, with five managers over the past four years.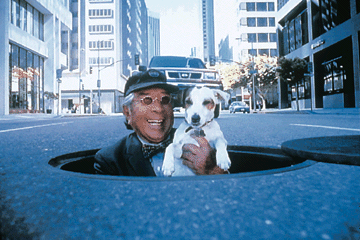 Much of the blame, however, can be traced back to Japan. While the Toyota Camry and the Honda Accord have gotten roomier to take on the Ford Taurus, Nissan's Altima has become the runt of its class.
Things are not likely to change anytime soon. Nissan will bring three new models to market this year, but in categories where Japanese carmakers tend to have low volumes: a minivan, a low-end luxury sedan, and a V-6 pickup. In the ad for the new truck, the pickup rolls over Mr. K, who is emerging from a manhole. "Dogs love trucks," he says. Unfortunately for Nissan, they can't buy them.