Free Quebec? Not If You Ask The Cree
Joseph Weber
After decades of wandering the bush of central Quebec and living a hand-to-mouth existence, the Cree Indians of Ouje-Bougoumou have reason to be happy. Six years ago, they created a village overlooking the stunning Lake Opemiska. The village, 325 miles north of Montreal, boasts a clutch of sleek wood-and-glass buildings that look more like an executive conference center than an Indian village. At a computer-equipped school, young Crees aspire to careers in medicine and law, as well as traditional pursuits such as trapping and hunting. There's even a cozy inn for tourists who come from as far away as Germany to see how Canadian aboriginals live and how they once lived.
But there is unease among the 750 villagers and their neighbors in eight other Cree communities in the deep woods of central Quebec. The villagers built Ouje-Bougoumou--Cree for "where people gather"--with $31.5 million in federal and provincial funds, and they keep it running with $4.9 million that comes in annually for education, health care, and tribal council operations. While they work at becoming self-sufficient through tourism, construction, mining exploration, forestry, and fish farming, they fear that separatist politics among their French-speaking neighbors could jeopardize that support. Says Matthew Coon Come, grand chief of the 13,000 Crees: "The greatest threat to the Cree nation since the arrival of the Europeans is the platform of the Parti Quebecois to secede from Canada."
WINNERS. The French have not explicitly threatened to kill aid, but the Crees fear it will happen. At risk, too, are federal legal protections that have been giving aboriginals stronger claims on traditional lands all across Canada. Native groups in provinces as far-flung as New Brunswick and British Columbia are winning court fights over who controls the forestry operations in their territories, for instance. The Crees now control little of the central Quebec land that the provincial government has opened up to mining and logging--but they have staked claims on the lands their ancestors roamed. With resource development accounting for more than $2.8 billion annually in Quebec, such claims could be lucrative. But precedents from other provinces might prove meaningless in an independent Quebec.
There is good reason for the Crees' fears. They figure dimly in the Quebecois version of the province's history. Just recently, Quebec leaders passed a bill to celebrate the 20th anniversary of a provincial law that mandates French on signs and in schools. They commemorated Bill 101 by naming 101 islands for French authors and poets, ignoring existing Indian names. "They celebrate their language and culture at the expense of our language and culture," says Bill Namagoose, executive director of the Grand Council of the Crees. "We have names for every bend in every river, every mountain, and every geographic formation."
At villages such as Ouje-Bougoumou, the Crees work to preserve their language, history, and culture. In November, the village hosted hundreds of Cree educators who want broader use of Cree in their schools--where it's now common only in the lower elementary grades. The visitors were regaled with stories by elders, dined on delicacies such as beaver and moose meat, and swayed to singers crooning in Cree. They want the old ways taught alongside high tech. Many Crees are comfortable with the computer, called katikashtataumisinihichabiich, or "word projector." The village has a Web site--www.ouje.ca. And Cree-owned Beesum Communications in Montreal provides software for teaching Cree.
In wanting to preserve their identity, the Crees and Quebecois would seem to have common cause. But the Crees, who make up less than 3% of the 7 million provincial population, fear there would be little room for them in an independent, French-dominated Quebec.
If the independence drive succeeds--it failed narrowly in 1995, and another vote is expected in the next year--some Crees want to split off their territories, perhaps allying with Canada. In a federal Supreme Court case on Feb. 17, Cree leaders argued for their right to secede from Quebec, if the province splits off. Quebec would object, since Indian groups claim some two-thirds of the province. Quebec leaders say the province's boundaries are indivisible.
A struggle could become nasty. Eight years ago, a Quebec police officer was killed in a dispute with Mohawks over expansion of a golf course onto land the Indians claimed. And in 1989, while campaigning to build Ouje-Bougoumou, Crees blockaded a road. "That got the government's attention," says village chief Abel Bosum.
Many Crees would rather tend to business. Ouje-Bougoumou is home to Cree Co., a $120 million-a-year concern that runs a nine-plane regional airline (Air Creebec) and a construction company, among other businesses. Profitability is off due to slack construction, but Cree Co. remains a tool for Crees to control their fate. "Quebecois have a right to determine their own future," says Roderick Pachano, Cree Co. chairman. "So do I."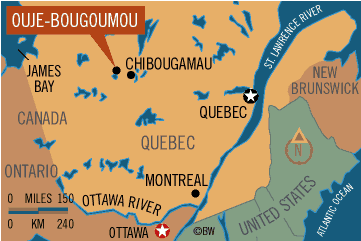 Most villagers in Ouje-Bougoumou are busy with personal economic issues. Many make mortgage payments on 145 nearly identical homes, a novel idea since homes in most Cree towns are government-owned. Unemployment of 12% here is low compared to 30% or worse in other Canadian tribes. Residents work for the school and the tribal council, explore for mining companies, plant trees for foresters, and run a snowmobile dealership in the French town of Chibougamau, 30 miles away. Says Chief Bosum: "We are on the road to self-sufficiency."
That's the goal, of course. The Crees want to stand on their own, as they did before whites arrived. In fact, as they integrate modern amenities into their culture, they could be better off than ever. But it all hangs on how they fare in the modern battle raging between their French and English neighbors.