Claire's Could Sparkle Again
by
Money manager Scott Black is a dedicated value player who would not think of buying junk. But he's accumulating shares of what he calls a "junk jeweler": Claire's Store (CLE), the leading retailer of low-priced accessories, mainly for teenage girls. "This company is no junk, though," insists the president of Delphi Management in Boston, which manages more than $900 million. Claire's earnings have jumped at least 15% in each of the past five years.
Even so, the stock has drooped--from 24 two months ago to 15 on Feb. 9. Since then, it has edged up to 17. As others bailed out, Black seized the chance to buy. He notes that such picks have helped Delphi reach a compounded annual return of 21.3% for five years vs. 20.2% for the Standard & Poor's 500-stock index. In 1997, Delphi gained 40.2%, vs. the S&P's 33.3%.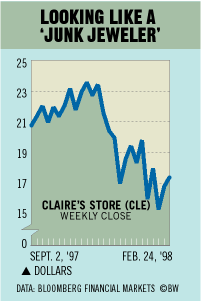 What was behind Claire's dive? A certain amount of panic selling hit the stock when Les Dunavant, president of the Claire's Boutiques unit, suddenly resigned at the close of trading on Jan. 26. But earlier that day, before the company announced his departure, shares fell 18%, to 16. Investors were concerned that the turnaround Dunavant had spearheaded at Claire's Boutiques, catering to very young customers, could be in jeopardy. Executive Vice-President Mark Hoffman has assumed Dunavant's post. His leaving "didn't have anything to do with health," says Glenn Canary, Claire's investor-relations officer, but he wouldn't comment further. But Black is far from worried: Chairman and CEO Rowland Schaefer "has always been in charge, and he will continue to do a superb job running the company," says Black. For the year ended Jan. 31, 1998, Claire's reported a 29% jump in basic earnings, to $58 million, or $1.21 a share, on sales of $500 million.
The company, says Black, will surprise the Street with another record next fiscal year, when he expects earnings of $1.44 on sales of $580 million. He's impressed with the stock's 26% return on equity and the company's clean balance sheet: no debt and a cash hoard of $2.80 a share. He sees Claire's climbing back to 24 in 12 months.
Before it's here, it's on the Bloomberg Terminal.
LEARN MORE