Brazil: The Storm Before The Calm
by
Brazil faces some tough going in coming months, but barring any more shock waves from Asia, the economy appears set to recover in the second half with its currency intact.
The Asian crisis hit Brazil hard as speculators attacked its currency, the real. So far, the real has survived but at great cost to the economy: The government doubled interest rates, to 40%, and enacted fiscal austerity measures equal to nearly 2 1/2% of gross domestic product. These moves prevented a potentially disastrous outflow of foreign capital needed to finance Brazil's fiscal deficit, nearly 6% of GDP, and its current-account deficit, 4.2% of GDP.
Signs that Brazil is slipping into recession are already showing up. Industrial production in November and December plunged 3.5% and 5%, respectively, led by credit-sensitive sectors such as autos, appliances, and capital goods (chart). Unemployment is rising, with January joblessness in Sao Paulo at 16.6%, up from 13.9% a year ago. Credit delinquencies are increasing, suggesting further weakness in consumer spending that will force more production cutbacks in coming months. Fourth-quarter real GDP grew 0.5%, bringing 1997 growth to 3%. With the GDP expected to fall in the first half, 1998 growth is projected at 1%.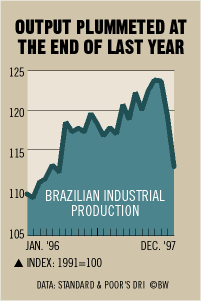 But some key problems are abating. Slower economic growth is already narrowing the trade deficit as imports fall, and analysts expect a trade surplus by midyear. Also, social security and administrative reforms moved forward in Congress in February, with final approval possible in March.
Most important, foreign capital is flowing in despite recent interest-rate cuts, including a big one on Jan. 29 that lowered the prime rate from 38% to 34.5%. Foreign exchange reserves rose to $58 billion by late February from $52.5 billion at the end of January, and foreign direct investment, which rose $924 million in January, had gained $717 million more by mid-February. Assuming Asia remains calm, Brazil is set to cut rates further, bolstering the outlook for a recovery in the second half.
Before it's here, it's on the Bloomberg Terminal.
LEARN MORE