Bank Plus Looks Ripe For A Raid
by
As California's thrifts consolidate, many of them are carving out niche markets to help them compete with superregional banks--such as First Nationwide, which recently agreed to merge with Golden State Bancorp. Nevertheless, "a number of the smaller California banks won't make it on their own," says Deborah Beylus of JW Charles Financial Services.
She says one savings and loan likely to be gobbled up is Bank Plus (BPLS) in Los Angeles, the holding company for Fidelity Federal Bank, which has 50 branches in Southern California and total assets of $4.2 billion. "Bank Plus continues to be plagued with high operating expenses (72% of revenues vs. an industry average of 60%) and low net interest margins," notes Beylus. She thinks Bank Plus may not stay independent for long.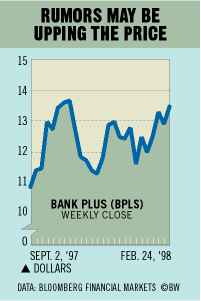 Despite the bank's troubles, speculation about a buyout has been heating up the stock. The price rose from 11 in early December to 14 on Feb. 3. In January, Tontine Partners, a New York investor group, upped its Bank Plus stake from 8.7% to nearly 10%, paying between 11 and 13 a share. Jeff Gendell, a principal at Tontine, declined to comment. Beylus, who expects Bank Plus to earn $1 a share this year, compared with last year's 67 cents, thinks the stock is worth 18 to 20 in a buyout.
Credit quality has been improving, notes Beylus, with the bank's nonperforming assets and delinquent loans dropping to their lowest levels since December, 1991. Even so, the ratio of problem assets to total assets is higher than industry norms. But, she adds, some of its consumer services would be attractive to large banks seeking a niche market: Bank Plus, for example, acts as a cash-services provider for a national network of automated teller machines operated by Americash. In addition, Bank Plus has just taken the first steps toward Internet banking.
Before it's here, it's on the Bloomberg Terminal.
LEARN MORE