An Intelligent Electronics Buy?
by
Shares of Intelligent Electronics (INEL) are in the limelight, after languishing in the 4-to-5 range. The stock has climbed above 6 on relatively heavy volume--with no news to account for it. What's fueling the rise?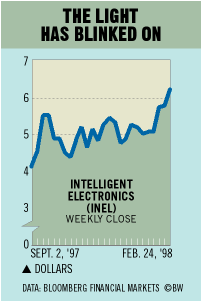 The company, through its 80%-owned XLConnect Solutions (XLCT), provides information and technology to network integrators and resellers. And XLConnect, which trades at 16 a share, has caught the eye of several electronic biggies, according to some analysts. Whispers are that one of them will try to acquire Intelligent Electronics, with a market capitalization of $258 million, to get their hands on XLConnect, which has a market cap of $266 million. A spokesman for XLConnect declined comment. Right now, each share of Intelligent Electronics contains $5 worth of XLConnect. James Meyer of Janney Montgomery Scott, a Philadelphia investment firm, figures XLConnect on its own is worth 20 to 25 a share and Intelligent Electronics about 10.
He notes that, apart from its 80% stake in XLConnect, Intelligent Electronics has some $70 million in cash plus some tax-loss carryforwards. The company also has four computer stores, with annual sales of about $200 million. XLConnect, for its part, posted revenues of $135 million last year and earnings of 30 cents a share. Analysts expect earnings of 55 cents in 1998.
Before it's here, it's on the Bloomberg Terminal.
LEARN MORE