A New Cat On The Hot Seat
Slowing global markets are shaping up as the first big test for the revamped Caterpillar
De'Ann Weimer
For eight years, CEO Donald V. Fites has been working to insulate Caterpillar Inc. from surprises. But on Feb. 22, Illinois members of the United Auto Workers gave him a shock. Although union leaders had finally agreed to a contract to end the company's six-year labor standoff, rank-and-file workers rejected the deal.
The setback comes at a particularly delicate time for the construction and heavy-duty equipment giant. Thanks to booming U.S. markets, a flood of new products, and a hugely successful restructuring that has slashed costs while making global diversification priority No.1, the Peoria (Ill.)-based company has been on a tear. But with a slowdown in global markets sure to give management plenty of new problems to worry about, Cat had hoped finally to put its bitter labor troubles behind it.
That looks unlikely to happen anytime soon. The union rejection has put an end to talks--and for now, an end to any hope Cat had of being able to hire lower-cost workers at its union plants. Still, if Cat's managers are worried, they're not showing it. Although Fites, 63, wouldn't comment for this article, his executives brush off any difficulties ahead. Overall, the company has "never been in a better position" to weather a tough environment, says Cat Vice-President James W. Baldwin, who oversees the key service and parts business.
IMPORT SCARE. For now, Wall Street also appears fairly sanguine. Cat's shares tumbled 36%, to 44, in less than a month last fall after news hit that Asia's currency crisis would trim sales by $80 million, but they have since recovered to around 52. The reason: Despite initial fears that collapsing Asian currencies would lead to a flood of cheap products from Asian rivals, it's now clear that most don't have capital to launch an export attack. Manufacturers like Cat "had their stock punished too much" last fall, says Jeffrey P. Davis, chief investment strategist with State Street Global Advisors, which holds 1.6% of Cat's shares.
Of course, that hardly means the horizon is trouble-free. The U.S. market, where Cat sells 49% of its goods, is expected to slow in 1998. And Asia, Cat's fastest-growing market, is suffering a headline-grabbing downturn. Already, American dealers say barely used, heavily discounted Cat equipment has begun to trickle into the U.S. from Asia, as customers dump equipment to raise cash. The slowdown promises the biggest test yet of the "New Cat" the combative CEO has built.
One thing is for sure: The reborn company skyrocketed through the upturn with flying colors. Since 1993, when Cat completed its manufacturing overhaul amid soaring demand for construction equipment in the U.S. and developing nations, sales have leaped from $11.6 billion to $18.9 billion, an average of 13% a year. Meanwhile, earnings have risen a stunning 45% annually, jumping from just $626 million to $2.3 billion last year. Investors have also won big: In five years, Cat's stock has more than tripled.
Fites's tumultuous restructuring came in response to a painful industry collapse in the 1980s. Global demand was dropping fast, and the weak yen allowed Cat's biggest rival, Japan's Komatsu Ltd., to undercut prices by 40%. When Komatsu began to gain share, Fites--and Cat--got the scare of their lives.
Fites began by overhauling manufacturing in Cat's core truck and tractor operations. He invested almost $2 billion to modernize his U.S. plants. New state-of-the-art machinery helped Cat slash time out of such mundane tasks as painting, for example, and vastly simplified production. Today, Cat can build 20 different models from the same basic design. The changes--together with the increased use of temporary workers in its nonunion plants--have also greatly improved Cat's flexibility. The company can now change production levels with a week's notice--down from six months at the height of its 1980s crisis. Altogether, Cat's manufacturing time has fallen 75%--one key reason operating margins have exploded, from 5.2% in 1993, to 12.6% in 1997.
Faster production has also allowed Fites to slash inventories. Gone are the long order backlogs and dealer inventories that weighed heavily on Cat's books; today, it refuses orders more than three months in advance. At the same time, Cat has broadened its products. In the last two years, it has introduced 90 offerings--some all-new, some well-targeted line extensions. In 1997, for example, Cat introduced a telescopic handler--essentially a tractor with an arm on it that allows masons to work their way up the side of a building.
Good timing helped with the turnaround, too. As the combination of reduced costs and the end of recession restored the company's financial health, Fites pushed into new markets. He focused on Asia, where infrastructure development created huge demand. Markets in Latin America, Central Europe, Russia and other former Soviet states.
POWER SURGE. Today, some 51% of Cat sales come from overseas--though Fites wants to hit 75% by 2008. To cut the risk of fluctuating currencies--and trim labor costs--Fites has also pushed much manufacturing abroad. Today, roughly half of Cat's 74 plants are abroad, vs. just 39% of its 38 plants a decade ago. In the wake of the UAW's rejection of the labor contract--which will prevent Cat from hiring new workers at lower wages or demanding more flexible scheduling in union plants--analysts say the percentage of foreign production could go even higher.
Fites has also bulked up in less-cyclical businesses like electric power generation. An offshoot of its long-standing engine business, the move into power gained steam in 1996 when Fites purchased a German maker of engines for generators. Driven by demand for power in developing countries--where governments often don't want to build big power plants--generation has helped boost engines to more than 25% of Cat sales. "They are trending toward smaller, easier-to-operate generators," says Siegfried R. Ramseyer, vice-president of Cat Asia. "This we can do very, very well." He says sales could triple in the next few years.
The company's largest acquisition to date--the $1.3 billion purchase of Britain's Perkins Engines, which closed in February--was directed at another target altogether: the fast-growing $3.6 billion market for compact construction machinery. These machines, typically operated by one person, are the industry's hottest segment. The star of the category: skid-steer loaders, which break up asphalt, move dirt, and do such a variety of useful things that sales are growing a red-hot 11% a year.
Today, Cat is all but absent in the lucrative small-equipment market, but Fites wants a 20% share by 2003. He's counting on big gains from Perkins, which makes engines for skid-steers. Since engines account for 25% of the costs of a skid-steer, Cat figures that trimming those expenses will allow it to undercut rivals while maintaining margins. But Rivals Deere & Co. and Case Corp. are also revving up. "It is going to be a brawl," says industry consultant Frank Manfredi.
Elsewhere, Fites has tapped other new markets by focusing dealers on rental equipment. Initially unpopular with dealers, who must keep rental gear on their books as assets, the change drew lots of smaller customers. The added demand also helped keep prices strong. In 1997, for example, when few companies could do so, Cat raised prices.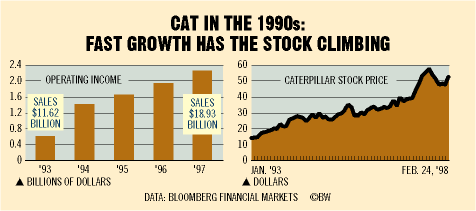 But that, as they say, was then, and this is now. The question today is whether Fites can keep up the performance. Speaking to investors at a Boston conference, he promised sustained sales growth of 5% to 7% annually for the next decade. But outside predictions for 1998 are much lower. Analyst Eli S. Lustgarten of Schroder & Co. expects sales to grow only 3.2% in 1998, to $19.5 billion. Operating earnings should nudge up only 1.5%, to $2.3 billion. Although he believes "strategically they are in a very strong position," Lustgarten doesn't expect Cat to avoid the cyclical slowdown. Fites has brought Cat far. But not that far.
Before it's here, it's on the Bloomberg Terminal.
LEARN MORE