A Hot Traffic In Warm Bodies...Is Kept Well Oiled By Corruption
James Drake
In the south Albanian port of Vlore, it's business as usual--that is, nobody's doing anything much at all. Old men stare out to sea past abandoned hulks gathering rust in the scum-strewn harbor. Six-year-olds wander aimlessly along the crumbling waterfront or sit composing letters to big brothers and sisters who fled en masse a year ago, after the failure of huge pyramid schemes left thousands of families destitute. "We live on what our young people send us," says a local high school principal, Gezim Bharda. "Without them, we would starve."
Most exiles head for Italy, just 80 kilometers away over the horizon, where some 85,000 Albanians are employed in the shadow economy. Ferried by professional smugglers on powerful launches, these workers are not unwelcome across the water, despite the legions of coast guard and marine personnel deployed along Italy's 8,000-km coastline to keep them out. "For us--not such a big deal," concedes Giannicola Sinisi, an under secretary at Italy's Interior Ministry. "They do the dirty, low-paid jobs. But for most refugees, we're just a transit camp [to other countries in Europe]." Italy, Sinisi explains, is a signatory to the Schengen Accord, a 1990 treaty that virtually abolished passport controls within most of the European Union and allowed free movement of labor among member countries. This means that if outsiders manage to pierce the Schengen zone, they too can move around nearly unimpeded in Europe.
In a bid to placate its angry European partners, the Rome government has given the Albanian police helicopters and radar-equipped powerboats to intercept smugglers. There are signs the measures are working. The estimated number of Albanians who make it to Italy has fallen to 200 or so a week--one-tenth the figure last summer. It could be, though, that the stay-at-homes simply figure they're better off where they are. After all, with 17% of the country's 3.4 million population at work abroad, the remittances from overseas total $1.2 million a day.
ONE-WAY TICKET. Still, unlike the pyramids--which could only pay out astronomical returns as long as new recruits brought in fresh capital--these latter-day racketeers probably won't run out of "investors" anytime soon. As EU states beef up their frontiers, closing off traditional overland routes across Central Europe, more and more Third World refugees are choosing Albania as a launchpad to a better life. "Kurds from Turkey, Tamils from Sri Lanka," says Foreign Minister Paskal Milo with a shrug. "They all come here, for some reason."
The reason, as Milo knows well, is Albania's visa-free, open-border policy, which makes no distinction between the Western executive looking to invest and the penniless Vietnamese who arrives on a one-way plane ticket with a map of Berlin or Stockholm in his back pocket. Thus far, Tirana has resisted calls from Brussels to tighten up its entry requirements. "We need all the help we can get," argues Milo. "There are plenty of rich Turks, rich Sri Lankans, who want to do business here. Why should we set them apart?"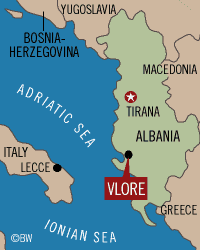 Before they folded, Albania's biggest pyramid companies had begun to expand into Asia and Eastern Europe, opening offices and investing in semilegal import-export companies and garment sweatshops. Now, the old network offers a route for impoverished or oppressed peoples seeking to infiltrate Fortress Europe. "They pay half in their home countries, fly to Tirana, are taken to the coast, and pay the balance as they board the boats," says Berthold Mann, a German aid worker in Vlore. Typically, says Mann, the job of ferrying the refugees across is subcontracted out to local boatmen: "And if they get nabbed, there are plenty more to take their place."
The traffic in human contraband is oiled by corruption. Last year, for example, some 30 Albanian coast guard officials were sacked after selling boats they had intercepted and confiscated back to their original owners. "Everyone seems to have his price," mourns Albanian Finance Minister Arben Malaj. "No one wants to do honest work." The problem, of course, is that with almost half of all remaining adults lacking a full-time job, there's not much honest work to be done.
Before it's here, it's on the Bloomberg Terminal.
LEARN MORE