Why Cott May Bubble Up
by
The fireworks in Dow stocks--as the market climbs to new highs--have masked the compelling values in some mid-cap plays, grouses money manager Forrest Mervine. Take Cott (COTTF), the world's fourth-largest soft-drink company and the largest maker of private-label soft drinks in Britain, Canada, and the U.S. The stock has been practically lifeless, slumping from 12 3/4 in mid-October to 8 1/8 on Feb. 17--in spite of rumors that several big companies, including a major beverage maker, are eyeballing Cott for a buyout.
The death on Feb. 3 of Chairman Gerald Pencer, who controlled 29% of the company, has renewed speculation that certain groups will jockey for his block. The stock hasn't yet reflected this possibility, but it shouldn't be long before certain groups show up to bid--"if they haven't already," says Mervine, managing director of Investment Counsellors of Bryn Mawr, a unit of Pennsylvania's Bryn Mawr Trust.
Cott, with sales of more than $1.4 billion to such customers as Wal-Mart Stores and Safeway supermarkets, is worth at least 20 in a buyout, says Mervine. He figures that sales per share are about $20--more than three times Cott's stock price. Sales have weakened, and profit margins have narrowed as a result of the price war between Coke and Pepsi-Cola.
"Once the price-cutting ceases, earnings at Cott will explode to higher levels, partly because of new products from acquisitions it has made," he says.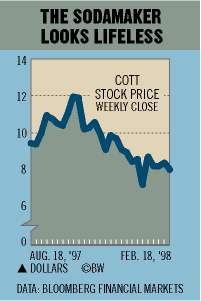 Who would be interested in Cott? Mervine is betting on Britain's Cadbury Schweppes, the world's third-largest soft-drink company, which has announced its interest in acquisitions in North America to bolster its might against Coke and Pepsi. Mervine notes that the person now leading Cott is True Knowles, former president of Cadbury's Dr Pepper unit. With Pencer gone, Mervine thinks Cadbury will be enboldened to talk to Knowles about a deal. In October, the company hired Morgan Stanley to help the Pencer family explore options for its stake. Cott didn't return calls.
Before it's here, it's on the Bloomberg Terminal.
LEARN MORE