business
U.S.: Is The Economy Slowing? Don't Bet On It Just Yet
The January softness in retailing, housing, and output looks temporary
By
Most forecasters expected the economy's feverish pace to cool off last year. By summer, it started to look that way, but by yearend, things sped up again. Now, once again, the forecasters say a slowdown is imminent, partly reflecting expected impact from the Asian crisis. But is the economy really downshifting?
The first-quarter data offer some hints of slower growth, but they are mixed and far from conclusive. Retail sales barely rose in January, but demand in many categories looks as strong as ever. Then in February, first-time jobless claims returned to a very low level, suggesting continued strong labor markets. Also, a key measure of consumer sentiment hit a record, and homebuilders were increasingly upbeat.
Consequently, it's hard to believe that industrial output is gearing down in any big way, if at all. January output was soft, partly because of the mild winter. But amid still-strong demand, December inventories remained lean relative to sales, suggesting little need to trim output on account of excessive stock levels.
U.S. producers are no doubt seeing some falloff in exports to Asia. But so far, the Asian effect is showing up mostly in declining import prices (chart). Those competitive pressures are holding back inflation. Producer prices of finished goods fell 0.7% in January, mainly reflecting a big drop in energy prices. Excluding energy and food, the core index dipped 0.1%, and annual core inflation for finished goods is essentially zero.
To be sure, at some point the economy will not be able to maintain the 4% growth it has enjoyed since the summer of 1996. The labor markets are running out of people to hire, and profit growth is already slowing down. Those factors will eventually erode the strong fundamentals that have kept consumer and capital spending unshakable. Based on the latest data, though, that's not happening yet.
CONSUMERS HOLD THE KEY to any slowdown, since they supply two-thirds of all spending in the economy. That's why January retail sales received so much scrutiny. They rose a scant 0.1%, and the gains for both November and December were revised downward.
Looking below the headline number, however, sales excluding autos rose a solid 0.5%. Clothing stores posted a 0.7% uptick, restaurant sales increased 0.9%, building materials and hardware stores saw a 1% gain, and department stores enjoyed a 1.5% advance--their best showing in nearly a year. In fact, the main source of weakness came in gasoline sales, more likely a function of price declines than a drop in volume.
First-quarter real consumer spending, calculated in the way it goes into the gross-domestic-product data, appears to be on its way to an annual growth rate of about 3%, little changed from the fourth quarter's 3.2% pace. Unit car sales, which are used in the GDP data, rose to an annual rate of 15.4 million in January, up from the fourth-quarter average of 15 million. Also, the core January components of the retail sales report that go into consumer spending stood well ahead of their fourth-quarter showing.
Consumers are also fueling a miniboom in housing. January housing starts dipped 0.3%, but that decline belied a 7% surge in single-family starts. Apartment construction fell sharply, after a big gain in December.
More revealing perhaps is the optimism of builders, based on a monthly survey taken by the National Association of Home Builders. The trade group's housing market index, which tracks both current and expected demand and buyer traffic through model homes, jumped from 59% in January to 68% in February (chart). The February reading was the highest in more than four years, suggesting that low mortgage rates and strong consumer fundamentals will yield a vibrant spring building season.
STRONG DOMESTIC DEMAND is making up for much--but probably not all--of the Asian-based weakness in manufacturers' order books. Industrial production at U.S. factories, mines, and utilities was unchanged from December to January--the first time in 15 months that output failed to grow. But utilities' production plunged 4% amid unusually warm weather.
Manufacturing output alone rose 0.3%, after increasing 0.4% in December, but those gains were only one-third of the pace in October and November (chart). Reflecting continued strength in consumer spending and housing, the output of appliances and consumer electronics jumped 3.5% in January, while production of carpeting and furniture rose 2.9%.
Clearly, Asian weakness accounts for some of the softer tone of January production. That's because output of industrial equipment, a big export item to Asia, fell 0.6%, resulting in a rise in business equipment production of only 0.2%, after monthly gains in 1997 averaging 0.8%. Still, output of computer and office gear, most likely headed for U.S. companies, held strong.
Without a considerable slowdown in overall demand, rapid inventory building will not hold back production anytime soon. Inventory growth in 1997 was the fastest in 12 years, but demand was also robust. In December, business inventories rose 0.4%, half as fast as the 0.9% increase in business sales. In the second half of 1997, inventories began to rise faster than sales, but by the end of the year the ratio of inventories to sales, at 1.37 in December, had not risen appreciably.
WHILE IMMEDIATE PROSPECTS for U.S. economic growth still look good, one Asian impact is clear: Prices of imports from the region are falling. Excluding oil, import prices dropped 0.6% in January, the largest monthly decline in five years. January decreases were especially large, down 1.2%, for goods coming from Asia's newly industrializing countries, including Hong Kong, Singapore, South Korea, and Taiwan. Prices of Japanese goods fell a steep 1%.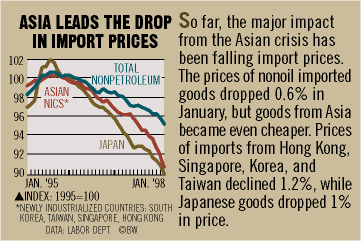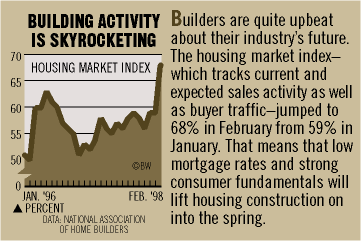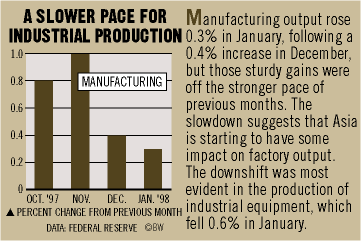 Since the Asian currency crisis began in July, 1997, imported industrial materials and capital equipment have led the price declines, while prices of imported consumer goods have barely fallen, and prices of foreign-made cars have risen. Prices of imported capital goods, however, had been declining at a steep rate even before the crisis began. Prices of imported materials and supplies plunged 1.4% in December and 1.3% in January, suggesting that many businesses are benefiting from cheaper raw materials.
At least for now, the Asian crisis may well be offering more pluses for the economy than minuses, including cheaper commodities to help businesses cope with rising labor costs, lower interest rates that are boosting housing and durable goods, and low inflation generally that is lifting the buying power of household incomes. Indeed, the fallout from Asia has failed to score a direct hit on economic growth so far in 1998. And without such a blow, the U.S. economy could easily gallop right into spring.
Before it's here, it's on the Bloomberg Terminal.
LEARN MORE