There's No Bonanza In Cell Phones...And The Losses May Just Get Bigger
Amy Louise Kazmin
It's Saturday night at Ego, an Italian restaurant popular among New Delhi's young, stylish, and upwardly mobile. Many customers enter clutching mobile phones; most of the tables also have at least one cell phone sitting on top. But for all the phones on display, few diners are using them to talk. Atamjit Singh, 26, is an exception, chatting away about a party taking place later that night. Singh got a mobile phone primarily to keep in touch with employees of the small finance company he manages, but he talks plenty to friends on it, too. That has helped drive his monthly bills to around $260. "I never make my friends feel like, `O.K., you are calling me on my cell phone, so you'd better hurry it up,"' he says. "I talk to them as if I'm on a real phone."
That's an attitude fledgling cell phone operators wish more subscribers shared. Instead, many of India's 750,000 users seem to have gotten the gadgets as a status symbol. When they talk, it's only for brief chats, which are getting shorter all the time. Over the past 18 months, average monthly usage in cities has dropped from 190 minutes per subscriber to 140--far from the 250 companies had anticipated when they agreed to pay hefty license fees.
Naturally, revenues are also falling short. "It's about 40% of what we had projected," says T.V. Ramachandran, executive vice-chairman of the Cellular Operators Assn. "And it's going down every month." Companies envisioned collecting around $65 monthly from the average subscriber. They find instead that more than half their customers have bills under $13 a month, and the average is around $31.
The problem is that cost-conscious Indian customers are simply using their cell phones as sophisticated pagers. To keep bills down, they check the numbers of incoming callers, then ring back from the nearest regular phone, which is much cheaper. "If it's important, you talk. Otherwise you say: `I'll call you later,"' says Vipul Dalal, director of Bombay's Alpic Securities. Under license conditions, incoming calls to a cellular phone are free if the recipient disconnects within five seconds. And once a customer buys the phone, the government-mandated monthly fee is just $4, compared with $6.50 for top-line paging services.
"BLINDLY." All this spells trouble for India's cell phone operators, which include giants like AT&T, Bell Canada, Swiss Telecom, British Telecommunications, Australia's Telstra, and Hong Kong's Hutchison Telecom--in each case acting in joint ventures with Indian partners. Already, Ramachandran says, operators are looking at combined monthly losses of around $100 million, including depreciation and interest costs. "We cannot afford over 50% of our current subscriber base," says Jan-Erik Boers, chief executive of Essar Cellphone, one of New Delhi's two operators. Yet some blame operators for creating the mess by agreeing to unfavorable terms and high license fees. Says one industry source: "They blindly signed on the dotted line" in their rush to get into the market.
Naturally, the operators are fighting back. They're appealing to regulators to hike subscription fees to $15 and to end the free five seconds for incoming calls. They're asking for an extension of the license period from 10 years to 15. They have started charging extra to give subscribers the telephone numbers of incoming callers. Cutting high default rates and late payments is another challenge. Operators are banding together to create a national "blacklist" of cell phone deadbeats to make fraud tougher.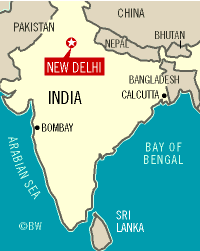 Increasing airtime usage, though, is the key priority. In New Delhi and Bombay, companies are trying gimmicks such as volume discounts to get people to talk more. But analysts say success will be limited until the difference in cost between a cell call and a fixed-line call is narrowed.
As if things weren't bad enough, operators were appalled when tax officials in December announced that cell phone users, viewed as monied types, were the next target in a campaign against tax evasion. And the state-owned telephone company, MTML, is pressing to start its own cell service in urban areas, which some operators claim might drive them out of business. Says one executive: "Everyone is waiting for the new government, some decisions--and a miracle."
Before it's here, it's on the Bloomberg Terminal.
LEARN MORE