How's Bill Doing? Not Bad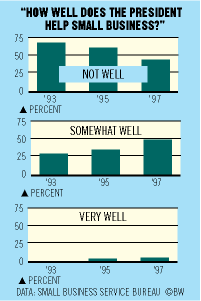 Even small business is warming to Clinton. In 1997, 2,600 business owners gave him better approval ratings than he has had so far, in a rolling survey conducted by the Small Business Service Bureau. Just four years ago, Clinton had the worst numbers in the poll's 15-year history. Only 6.4% think the President is helping "very well," but his '97 score is the best since 1986, when Reagan had 11% strongly approving and 31% disapproving. Why? The economy, stupid. The poll also showed fewer respondents paying interest rates above prime or suffering tax increases.
Before it's here, it's on the Bloomberg Terminal.
LEARN MORE