Greenspan's Battle Against Old Dogma
The Fed is torn: Inflation hawks want a rate hike now
Dean Foust
Given the mounting evidence of a productivity surge, you might think Federal Reserve Chairman Alan Greenspan would have convinced Fed colleagues by now that the U.S. economy can grow faster than 2% without risking a new burst of inflation.
But the traditionalists can be a hard group to turn around. Despite recent figures showing productivity gains running at nearly double the trend rate since the 1970s, many Fed officials still believe that robust growth and tight labor markets are sure to trigger an upsurge in prices. So the battle within the Fed continues: Greenspan wants to stand pat on rates until he sees signs of inflation, while the hawks want to hike rates because they believe the productivity gains won't last and that rapid growth will inevitably lead to inflation.
The latest evidence of this split: newly released minutes of the Dec. 16 meeting of the Federal Open Market Committee (FOMC). They show that several officials were reluctant to follow Greenspan--who advocated dropping the Fed's bias toward raising rates.
SHARP DIVISION. The chairman put forward a neutral view on rates, arguing that Asia's economic crisis would slow the U.S. economy. Although the FOMC ultimately voted with Greenspan, some members seemed allied philosophically with Richmond Reserve Bank President J. Alfred Broaddus Jr. He favored an immediate rate hike, arguing that "persisting strength in aggregate demand" could spark inflation. David M. Jones, chief economist at Aubrey G. Lanston & Co., a longtime Fed watcher, notes that there is clearly a sharp division on the FOMC. "My sense is the majority didn't want to change the bias [in December] because they think the next move is to tighten. But Greenspan is out front, pulling everyone along."
The FOMC took a pass on a rate hike when it met again on Feb. 3-4. But restive policymakers may not wait much longer. The growth-phobes argue that with demand still strong and unemployment at 4.7%, businesses are starting to bid up wages to attract new workers.
Since the meeting, the strong 1997 productivity numbers have rolled in--accompanied by a sharp upward revision in the 1996 figure. Coming off of a 3.6% gain in the third quarter, nonfarm productivity rose at an impressive 2.0% annual rate between October and December--nearly three times what Wall Street economists expected. Then, on Feb. 18, the Labor Dept. reported that the producer price index dropped by 0.7% in January, continuing a downward trend that began in 1997.
This bolsters Greenspan's argument with the hard-liners. Productivity gains are lowering unit labor costs so that employers can pay higher wages and still turn profits--despite their inability to raise prices. In the manufacturing sector, unit labor costs actually fell 0.9% last year, despite a 3.5% boost in hourly pay. "The new era is here, and we're just at the tip of the iceberg," says Brian Wesbury, chief economist at Griffin, Kubik, Stephens & Thompson Inc., a Chicago investment firm. "Over the next year or two, we're going to be surprised by the upside in productivity."
"FAILING." A few Fed members may be coming around. At least they're questioning old dogma, including the iron-clad relationship between low unemployment and rising inflation. "A lot of the old models we've been using are failing," admits Arthur J. Rolnick, research director for the Minneapolis Federal Reserve. "These models are demand-driven and don't deal well with supply-side" changes such as technological advances.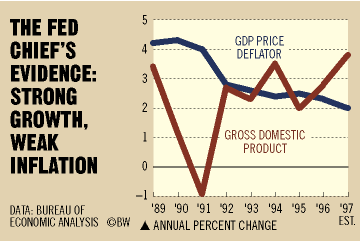 Meanwhile, Greenspan tells them that even now, the real productivity gains are understated. He distrusts published data so much that he makes his research staffers construct a second index. Their charge is to "zero out" every service industry that shows falling productivity, such as health care, and recalculate a new average. The reason: He doesn't believe it's possible in today's supercompetitive climate that an industry can become less efficient.
But Greenspan is making few converts on the FOMC. Traditionalists argue that it's easy to show short-run productivity gains when demand is so hot. But if growth slows, productivity will collapse. "I do not see clear evidence of a break in the productivity trend," Fed Governor Laurence H. Meyer said recently.
Such convictions illustrate just how much missionary work remains for Greenspan to do. But if the productivity statistics stay strong, he will find it easier to prevail.
Before it's here, it's on the Bloomberg Terminal.
LEARN MORE