Can Dassault Design Itself A Way To Stay On Top?
Its software is cutting-edge, but rivals are proliferating
Gail Edmondson
When Chrysler Corp. rolled out its 1998 Concorde and its Dodge Intrepid, their designers celebrated a breakthrough. The two cars were the company's first to be conceived in virtual reality--digital mockups that went from computer screen to production line with no prototype in between. The software, made by France's Dassault Systemes, spared Chrysler some 1,500 design errors, saving an estimated eight months of development time and $80 million.
Chalk up another hit for one of Europe's software stars. Since its launch in 1981, Dassault Systemes has grown into a global leader in computer-aided design and manufacturing, commonly called CAD/CAM. Its CATIA brand system dominates the auto and aerospace industries and is used to design everything from Cartier jewelry to Electrolux toasters. "Dassault Systemes is pushing the envelope" on technology, says William Farrell, European software analyst at Morgan Stanley, Dean Witter, Discover & Co. "The competition is several steps behind."
But staying ahead of the pack won't be easy. With digital-design applications spreading to complete factories, Dassault's turf--the $4.7 billion market for mechanical CAD/CAM designs--has attracted a slew of tough competitors. In the battle for market share, Dassault, with IBM Corp. as a partner, is just behind Parametric Technology Corp., a 13-year-old company in Waltham, Mass., that has 18% of the market. Dassault and IBM sales of CATIA are $750 million--a 16% market stake. On Feb. 11, Dassault announced that its 1997 revenues rose 37%, to $327 million, double the pace of growth in the CAD/CAM market. Net profit rose 48%, to $77 million.
"ATTACK MODE." Bernard Charles, Dassault Systemes' president, is bent on boosting market share. And he's determined to prevent Parametric and other rivals from grabbing his major auto-industry customers, which include Mercedes-Benz, Volkswagen, BMW, Volvo, and Renault. "We're not in a defense mode," says Charles. "We're in an attack mode, and our market share is growing." Charles spends more than $100 million a year on research and development, roughly twice Parametric's R&D budget. Moreover, Dassault's purchase last year of a hot young U.S. software company called SolidWorks Corp., in a $310 million stock swap, has given Dassault a strong position in entry-level CAD/CAM systems aimed at small and midsize companies.
The 43-year-old Charles, who runs Dassault from its offices in Suresnes, near Paris, is an industry visionary. Although he studied to become a scientist, his career swerved when he did military service at a software unit of Dassault Aviation Group, the maker of military jets. While most drafting was still done by hand or on two-dimensional CAD programs, Charles dreamed of three-dimensional design on computers for projects as large as production plants--a practice cutting-edge manufacturers such as Toyota and BMW are just beginning to experiment with.
Dassault's work caught IBM's eye and led to an alliance that gave Dassault Systemes, by this time an independent company, powerful marketing leverage--without the heavy cost of a sales force. "We invented a virtual company," says Charles. "IBM does sales and marketing, and we do product development and strategy." In return for its marketing support, IBM gets half of CATIA sales. One high-profile monument to the CATIA system: the acclaimed new Guggenheim Museum in Bilbao, Spain.
Charles also pioneered a system that lets customers lease CAD/CAM software instead of buying it. Once the software is paid off, after three years, additional payments for updates and service go largely to the bottom line. "You can't beat the business model," says Sheila Ennis, software analyst at Hambrecht & Quist in San Francisco. "It's all gravy after three years." Dassault Systemes' says 1997 operating margins topped 39%, and Charles intends to push them higher.
Dassault Systemes entered the big leagues in 1989, when Boeing Co. signed a contract with Dassault and IBM to build the first digitally designed plane--the Boeing 777. The process was agonizing: Boeing's designers balked at procedural changes, and Dassault's software was overstretched. At the same time, Parametric was charging into the CAD market with a new technology for modeling solids such as engines or other components.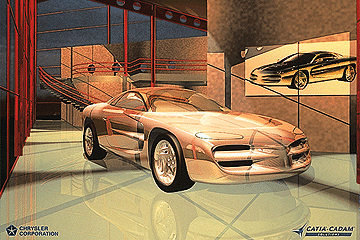 SNEAK PREVIEWS. The two challenges galvanized Charles. He turned up the burners on technology development and assigned his best researchers two customers each to make sure they understood the market. When the software for Boeing hit snags, he invited Boeing's best developers to France to critique his developers' work. "Charles transformed his company," says David Burdick, vice-president for engineering applications at Gartner Group, a Stamford (Conn.) market researcher.
Charles now intends to make CATIA the graphical Windows of the manufacturing industry. This year, Dassault is launching an easy-to-use Windows NT version that managers can operate on personal computers--or even over the Internet. Everyone from financial executives to procurement managers and suppliers can then peek at a product under development and suggest ways of improving it. If Charles keeps that kind of innovation up, this maverick company will continue setting the pace for several years to come.
Before it's here, it's on the Bloomberg Terminal.
LEARN MORE