Australia: So Close To Asia, Yet So Far
by
The Reserve Bank of Australia's quarterly report confirmed what had been suspected: The Asian crisis is damaging Australia's trade position, but the domestic economy is still buoyant.
The evidence is in the latest data. In foreign trade, the December deficit was the widest in 2 1/2 years. Imports surged, but exports dropped, particularly shipments to Korea. Tourism was also hit, as the number of Asian visitors fell 23% from last year.
Labor markets, though, are doing well. In January, some 23,100 full-time positions were created. The jobless rate inched up to 8.2%, but that was from the two-year low of 8.1% hit in December. But that's not to say job prospects are immune to Asia's crisis. A survey found that manufacturers and mining concerns expect to cut payrolls this year because of the export slump, while service industries and construction will boost hiring.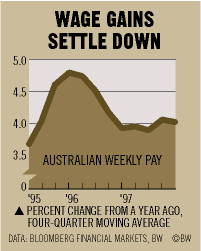 Even with the improvement in job growth, pay gains remain within the RBA's target. In the fourth quarter, weekly pay was up 3.7% from a year ago, down from the third quarter's 4.4% increase (chart). But pay and jobs are rising fast enough to keep consumers upbeat, and that optimism is benefiting housing. Home-loan approvals rose 1.3% in December, while housing permits were up 0.8% in December, the third monthly increase in a row. Strength from domestic sources should enable the Australian economy to grow 4% in 1998, despite the fallout from Asia. The economy probably expanded by about 3.1% in 1997.
With wage growth unlikely to reignite domestic inflation, the RBA is not expected to raise interest rates soon. That prospect is depressing the already weak Australian dollar. In the past six months, the "Aussie" has fallen 11% against the U.S. greenback and 3% against the yen. Asian worries are also hurting the stock market as investors gamble that falling exports will crimp earnings. In fact, if exports fall more than anticipated, the next move by the RBA could be a rate cut to keep domestic demand going.
Before it's here, it's on the Bloomberg Terminal.
LEARN MORE