A Strong Pulse At Medtronic
By
Big is beautiful, says Richard Hughes. That is, large-cap, growth-oriented companies such as Coca-Cola and General Electric are the only stocks Hughes loves--or owns. But since there aren't many such giants around, Hughes, president of Rittenhouse Financial Services, scours the world for the future Cokes and GEs. This big-stock strategy has powered Rittenhouse, acquired by Nuveen in September, to a 19.6% yearly cumulative gain since 1983. Last year, Rittenhouse's 38% gain beat the S&P 500's 33%.
So what's the next up-and-comer on Hughes's screen? Medtronic (MDT), the world's leading maker of heart pacemakers and defibrillators. Hughes, who has been accumulating Medtronic for Rittenhouse's $5 billion portfolio, admits it's not yet a household name. "But if you simply look at its consistent earnings growth and other fundamentals, you might think it was Coke or GE," says Hughes.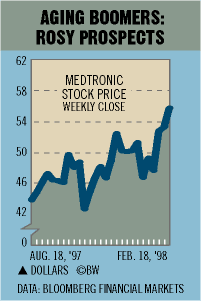 Earnings have been growing at least 17% a year, he notes. Now trading at 55 7/8 a share, with a price-earnings ratio of 35, Medtronic is cheap, based on its growth rate and long-term value, says Hughes. "Demographic trends favor the market that Medtronic dominates," he argues. With the baby boomers aging and more people living longer, demand for Medtronic's devices will rise. "Medtronic is at the forefront of prolonging people's lives," says Hughes.
Some two-thirds of sales come from its pacing products, chiefly bradycardia devices, which adjust slow or irregular heartbeats, and tachyarrhythmia devices, which correct rapid heartbeats. Other products include mechanical and tissue heart valves.
Analysts expect Medtronic to earn $1.30 a share this year and $1.56 in 1999, up from $1.11 in 1997.
Before it's here, it's on the Bloomberg Terminal.
LEARN MORE