Wharf Is Searching For A Port In Hong Kong's Storm
The real estate giant keeps rents high as its troubles mount
by
Leon Lam, owner of a small shop in Kowloon's tourist district, is an unlikely renegade. The 45-year-old Lam runs Lace Lane, a linen boutique he inherited from his father. It sits in a 300-square-foot space rented from a hotel owned by Wharf Holdings Ltd., one of Hong Kong's biggest conglomerates. Beset by slumping sales, Lam has joined 300 other Wharf tenants in a rebellion. On Feb. 10, they descended on Wharf corporate headquarters, calling for a 40% rent cut. But while other developers have helped retailers by slashing rents by up to 30%, Wharf is still charging the premium rates set last year, before Asia's financial crisis. "They are the toughest," Lam says.
Wharf has reason to hang tough: Its back is against the wall. Hong Kong's economic slowdown is hitting its key businesses hard just as the company is in the middle of a major expansion drive, mapped out by former Chairman Peter Woo. The group has three luxury hotels in Hong Kong--bad news at a time when tourist arrivals have plunged. Wharf also controls Lane Crawford, one of Hong Kong's priciest department stores, which has been squeezed by the retailing recession. And it has yet to reap gains from forays into TV and regional property development. Higher interest rates have added to Wharf's debt burden, leading to downgrades by major ratings agencies.
DOWN THE ROAD. Despite such pressures, Wharf shows no sign of changing course. With costly new ventures in telecommunications, pay-TV facing more competition, and retail rents accounting for one-third of earnings, it wants to keep rates as high as possible. Besides, even with the property slump, it expects to earn enough from sales of new apartments this year to keep profits at 1997's level of $370 million. Wharf is still "relatively well off," says Deputy Chairman Stephen T.H. Ng.
But looking further down the road, Wharf's challenges are likely to get more daunting. Next year, for example, the company will complete a $450 million Hong Kong development along the Kowloon waterfront that will add 2.8 million square feet to Wharf's current 4 million square feet of space. "They have a significant amount of space coming on the market and will be looking to rent it at a time when the markets are pretty soft," says Julia Turner, managing director of Moody's Asia Pacific. Wharf's $680 million worth of Hong Kong-dollar debt has floating interest rates. Since October, those rates have risen 500 basis points, making that debt far more expensive.
Costly new investments will take time to pay off. Woo, who stepped down as Wharf chairman in 1994, still helps guide its aggressive expansion across Asia. New shopping malls in China are going forward. So are plans to open posh hotels in Indonesia and the Philippines this year, despite the currency crisis and drop in tourism.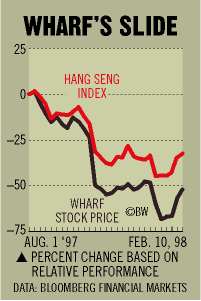 BACKING AWAY. Woo's forays into cable TV, meanwhile, are unlikely to provide much relief. Since 1993, Wharf has pumped at least $840 million into the cable venture. Last year, cable lost $40 million, according to CS First Boston. Now, faced with competition from Hong Kong Telecom's interactive-TV service, Wharf may not spend the additional $250 million needed to finish upgrading its network with fiber-optic cable, which can handle more channels than the microwave dishes still used by two-thirds of subscribers. "This may be one of our most difficult times economically in recent memory," says Ng, who runs Wharf Cable. "There's no point in being brave and undertaking major additional investments."
Wharf may get some breaks. The Hong Kong government is backing away from plans to drive down property prices and may cut the land-use fees the group must pay for new sites. Still, Wharf is unlikely to slash rents. That means shop owner Lam, whose sales can no longer cover his $5,000 monthly rent, may have to close within six months. Hong Kong's economy had better improve fast. Otherwise, Wharf may regret being so cavalier about losing tenants.
Before it's here, it's on the Bloomberg Terminal.
LEARN MORE