Victoria Gives Its Rival A Run...But Not Without A Backlash At Home
Tracey Aubin
When Australia's stuffy Prime Minister, John Howard, announced he had no intention of breaking his Christmas vacation to grant the touring Spice Girls an audience, no one was surprised. Nor did anyone lift an eyebrow when, days later, Victoria State Premier Jeff Kennett was pictured in every newspaper in the country flirting with them. He doesn't particularly like their music, he said. But there he was telling the world that Posh Spice is his favorite because her real name is Victoria--so she's named after his state.
Kennett, 49, has brought that brash style to government--and scored a runaway hit. In the 5 1/2 years he has been at its helm, Victoria, once in dire economic straits, has turned around, and Melbourne, long used to being the poorer cousin to Sydney, has made great strides. "Victoria had been written off as the rust-belt state with hopeless debt and businesses and residents leaving in droves," explains David Edwards, CEO of the Victorian Employers' Chamber of Commerce & Industry. "Today, investment is growing, the budget is under control, and most important, the state has regained its pride."
Soon after taking power, Kennett's pro-business Liberal Party government slashed the previous Labor administration's $21.8 billion debt to $9.5 billion through spending cuts and higher taxes that were subsequently reduced. Victoria, population 4.6 million, now boasts a debt load of just $5.4 billion, a $1.4 billion budget surplus, and falling taxes. It's now well-placed to win a coveted AAA credit rating when Moody's Investors Services and Standard & Poor's Corp. review the state's performance in March.
By comparison, Australia's biggest state, New South Wales, population 6.3 million, is not faring so well. It has gross debt of $17.7 billion, an expected budget deficit of $680 million, and Australia's highest taxes. To make matters worse, New South Wales risks losing its AAA rating because of the 2000 Olympic Games in Sydney--estimated cost now at $3.3 billion and rising.
LEGALIZE POT? New South Wales and Victoria have long been rivals. Both wanted to host Australia's capital, but their bickering 100 years ago led to the building of Canberra from scratch. Now, Kennett is delighting in showing up his bigger cousin. For example, he sold off most of the state's public power industry for a staggering $21 billion--and Victoria's privately owned power plants are stealing large chunks of market share in the Sydney metropolitan area.
To add insult to injury, attempts by New South Wales to emulate the Victorian power-industry sell-off foundered because of stiff opposition within the governing Labor Party. And Kennett's attention-getting moves are by no means limited to economics. He has snared dozens of major sporting and cultural events from New South Wales, brought Australia's largest casino to the heart of Melbourne, and espoused controversial positions: He speaks out passionately for racial equality, supports euthanasia, and even wants to legalize marijuana.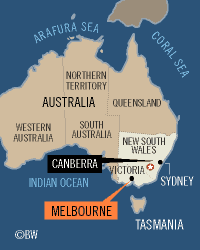 Victoria's reforms do have a downside, of course. Union officials say workers now have less job security and generally worse working conditions than they did five years ago. Dimity Fifer, chief executive director of the Victorian Council of Social Services, says cuts in essential services have hit Victorians hard. "Every economic decision has had social consequences," she says. In the past five years, more than 300 state schools have closed, and the public hospital system has had its budget cut every year. An employment surge in December put Victoria's jobless rate on par with the national rate of 8.1%, but it has remained above the national average for most of the past seven years.
Voters, in fact, may already be tiring of the pinch. In one by-election for a previously safe seat in December, the Liberal Party suffered a record 16% swing against it. Kennett is now pledging to spend more on health and education as part of a "social dividend" after years of pain.
To add injury to insult, Kennett's wife, Felicity, walked out in January after 22 years of marriage and four children, citing her distaste at living in the political spotlight. Kennett pronounced himself devastated. It seems that he, too, is paying a high price for success.
Before it's here, it's on the Bloomberg Terminal.
LEARN MORE