The Shareholder Revolt Comes To Korea
U.S. investor funds bolster a bid to reform the chaebol
Moon Ihlwan
It's the strongest challenge yet to the opaque business practices of South Korea's major conglomerates, or chaebol. Three foreign fund managers, led by Tiger Management Corp., are teaming up with a Korean shareholder activist group to take on SK Telecom, a blue-chip mobile-telephone operator. The company is part of the SK Group conglomerate and is one of the most popular stocks for foreign investors on the Korean exchange. The reformers want a say in the management of SK Telecom, which the government ruled was being milked of its profits by group Chairman Chey Jong Hyon and his family to benefit affiliated companies.
If the investors are successful, they may force an end to a standard practice in Korea that's abhorrent to most U.S. investors: shifting money within a group from successful business units to poorer sister companies to compensate for losses. Tiger Management, a group of hedge funds run by New York investor Julian H. Robertson Jr., along with Scudder Kemper Investments Inc. and Oppenheimer Global Fund have accumulated nearly 10% of SK Telecom. In a Feb. 3 filing with the U.S. Securities & Exchange Commission, the U.S. group said it would seek to change how SK Telecom is managed in order to ensure that the company is operated in a way that benefits all its shareholders.
An SK Telecom spokesman pledges changes but wouldn't comment on the specific demands. "It is not just us who have done this," he says. "It used to be common practice for the chaebol to help out sister companies. Now, it's time for us to depart from the past, and we will make efforts to achieve management transparency." A Tiger spokesman agreed that SK Telecom's management had been receptive to its concerns during preliminary meetings.
Tiger is joined by the People's Solidarity for Participatory Democracy, which says minority shareholders in SK Telecom are being bilked by the money transfers. The Tiger-led group has proposed that, at a shareholders' meeting in early March, SK Telecom appoint two directors from outside the company to monitor corporate activities. It also proposed that the company amend its charter so that shareholders must approve any overseas investments, loans in U.S. dollars or Japanese yen, or issuance of shares abroad. Those measures would keep a check on overseas expansion and borrowing--practices that caused the bankruptcies of several chaebol last year--as well as dilution of existing share value.
Analysts say SK Telecom is likely to yield on appointing outside directors, although not necessarily foreigners. But it may not accept shareholder approval over overseas investment and borrowing decisions. "Whether the foreign fund managers and Korean activist shareholders win an outright victory or not doesn't really matter," says Sohn Bin of Acts Capital Management. "The chaebol may resist, but pressure will keep building to demand more and more transparency. There's no way for the chaebol to continue ignoring it."
In any case, the Tiger Group and the Korean shareholders will likely need the backing of the government to get their measures approved--state-run Korea Telecom holds 19%--as well as the support of other foreign interests that hold 23%. Chairman Chey and his relatives control about 26%, with the remainder held mostly by Korean institutional investors.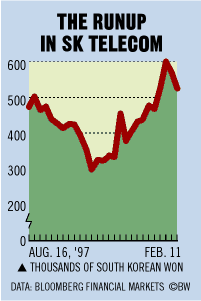 The challenge to SK Group was made easier by a previous government ruling that shows the tide is already turning. On Dec. 23, the Fair Trade Commission found that SK Telecom had paid inflated prices for equipment and services from its affiliates as a way of transferring assets to them. This lowered SK Telecom's operating profits--from 31% of sales in 1994 to 14% in 1996--and eased the pressure to pay higher dividends and corporate taxes.
People's Solidarity not only wants the practice to stop. It wants foreign shareholders to back its demand that SK Telecom's improperly funneled money be returned. "The SK Telecom case is a typical example of chaebol abuses," says Chang Ha Sung, People's Solidarity leader and an economics professor at Korea University. Irregularities at other chaebol, he says, include having successful units cover the costs of advertising and even salaries at less successful businesses. With practices such as these, watch for more shareholder revolts against Korea Inc.
Before it's here, it's on the Bloomberg Terminal.
LEARN MORE