Myers: Stolid Maybe But Solid
by
Takeover targets aren't what Elliott Schlang looks for, but he has watched a few names vanish from his portfolio. Recent buyouts: Arbor Drugs and industrial-products maker Trimas. "Although my game is driven by fundamentals, 25% of our picks eventually got bought out," says the managing director of LJR Great Lakes Review, an investment advisory in Cleveland. "That's because strong fundamentals attract," argues Schlang.
One stock he thinks may be takeover bait despite being in "boring businesses": Myers Industries (MYE), a maker of reusable plastic and metal shipping containers and a nationwide distributor of tire-repair products.
Why should anyone care? It's overlooked, trades at a depressed price-earnings ratio, and sports a superb balance sheet with little debt, says Schlang. Myers' earnings have increased in 23 of the past 25 years, and this will be the 22nd consecutive year that it has raised its cash dividend.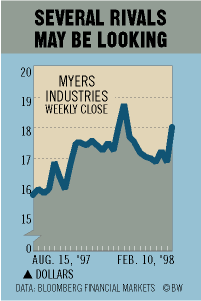 Schlang thinks the stock, now at 18 a share, deserves a higher p-e--to match the 14% earnings growth rate projected over the next three to five years. At a p-e of 14 times estimated 1999 earnings of $1.62, say, the stock price would get up to 23. In a buyout, the value would be higher. Schlang expects the company to earn $1.45 a share this year, up from last year's record $1.25.
Who would be interested in Myers? Schlang argues that several major equipment makers and industrial companies are on the lookout for the kind of niche businesses that Myers is dominant in. Managers own 25% of the stock.
Before it's here, it's on the Bloomberg Terminal.
LEARN MORE