Commentary: Dow Jones: Bright Lights, Big Mistake
Elizabeth Lesly Stevens
Interviewing Dow Jones & Co. Chairman Peter Kann is tough. Kann couldn't be more polite. But press him on a potentially embarrassing issue, and he often responds with a vague nonanswer. Ask again, and he patiently repeats himself. Inquire about the company's growth prospects, and he ends the interview; his spokesman later faxes over the text of a four-month-old speech.
The problem may well be that Kann is out of answers. The deterioration of Dow Jones Markets forced the company to take a $923 million writedown on Feb. 9. Rumors are swirling that Markets will be sold for a few hundred million dollars--far from the $1.6 billion Dow paid for it in the 1980s and despite last year's botched $170 million effort to revive the unit. That's a lot of money for Dow Jones, whose entire 1997 profit, excluding the write-off, was just $120 million. Recently, at least one member of the family that controls Dow Jones' voting stock has called for the ouster of Kann and his No.2, Kenneth L. Burenga.
WEAK HAND. Markets isn't Kann's only strategic and financial fumble, though. Since 1993, Dow has lost more than $150 million on another supposed hot-growth area: television ventures in Asia, Europe, and the U.S. To stanch those losses, Kann struck a highly publicized but little examined deal with NBC in December.
A close look at the terms of that deal reveals just how weakly positioned Dow Jones was when it sat down to negotiate its way out of those TV losses. In the U.S., NBC gets essentially all the rights and assets it would have wanted from The Wall Street Journal, namely TV rights to the Journal's prestigious content, credibility, and brand name, as well as certain online rights. In return, Dow Jones got to save face, cut its losses, and collect some cash--but no equity--from NBC. Dow Jones "can be part of the leading business-news brand on the cable dial and at the same time be profitable from Day One," says NBC Cable President Tom Rogers.
Dow Jones and NBC had flirted with an alliance for years, but, say several sources, Dow Jones was cool until last spring. Around that time, Markets was deteriorating, and Dow Jones' partners in TV ventures in both the U.S. and Europe were pulling back. "Everything Dow Jones tried [in TV] was too little, too late," notes an outside exec familiar with the deal. "NBC made a great, great deal here." Kann denies that he felt any pressure to do a TV deal.
Nonetheless, the benefits of the pact are embarrassingly tilted in NBC's favor. The deal merged CNBC and Dow Jones' international channels, giving both companies an equal stake. But the surviving brand is CNBC, which gets a considerable boost from becoming a joint service of NBC and Dow Jones. And beginning next month, CNBC producers in the U.S. will be included in the Journal's daily editorial meetings, and Kann says that some Journal scoops will even be broken on CNBC. NBC also gets online rights to some of the Journal's stories, to be featured in a new, more substantial CNBC-Wall Street Journal section of MSNBC.com, NBC's online venture with Microsoft Corp.
Will free access to those stories cannibalize the Journal's paid interactive edition, which has 170,000 subscribers paying either $29 or $49 a month? Kann says no: Free stories "will generate interest in the Interactive edition. It's another area in which the arrangement is win-win."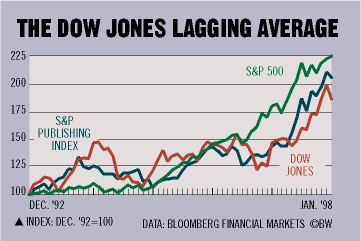 Dow Jones gets a licensing fee (NBC CEO Bob Wright says it is less than the roughly $20 million Microsoft pays NBC each year for the NBC News content used on MSNBC), and it gets an undisclosed share of any increase in CNBC's daytime ad revenues. But Dow Jones doesn't get a shred of equity in CNBC's hugely profitable U.S. operations. "There was not a negotiation over equity," says Kann. Why not? "We weren't interested. We were very happy [with] significant programming presence and advertising share. That, to us, is very satisfactory."
So did Dow Jones give away electronic and broadcast rights to its crown jewel--the Journal's content--for too little? Wright says no. "Shrewd" Dow Jones executives, he argues, were "excellent custodians of what they were bringing to the table." But after years of frustration and $150 million invested, it's striking that Dow Jones had so little leverage when it came to the bargaining table.
Before it's here, it's on the Bloomberg Terminal.
LEARN MORE