PRODUCTION INDEX
The production index plunged during the last week of January. Brutal winter
storms in the East caused coal production to fall 17% and rail-freight traffic
to drop 5.8%. The unaveraged index also fell, to 133.1, from 133.3 a week ago.
Steel, auto, and oil production were down considerably, while electric power
and lumber production posted small increases. The monthly index for January was
133.1, up 1.1% from December's figure of 131.6.
BW production index copyright 1998 Bloomberg L.P.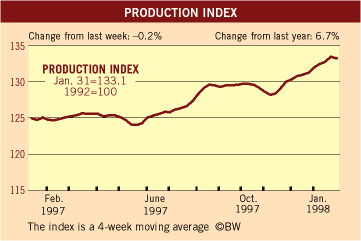 PRODUCTION INDICATORS
                                            LATEST          WEEK        YEARLY
                                              WEEK           AGO         % CHG
      
      STEEL (2/7) thous. of net tons          2,167         2,251 #       6.7
      AUTOS (2/7) units                     119,546       118,759 r#     -3.2
      TRUCKS (2/7) units                    140,452       137,657 r#      7.2
      ELECTRIC POWER (2/7)
        millions of kilowatt-hrs.            64,943        65,547 #       3.0
      CRUDE-OIL REFINING (2/7)
        thous. of bbl./day                   14,154        14,060 #       6.9
      COAL (1/31) thous. of net tons         20,564 #      23,543        -2.4
      LUMBER (1/31) millions of ft.           477.8 #       485.8        -5.8
      RAIL FREIGHT (1/31)
        billions of ton-miles                  26.8 #        28.0         2.7
      
      Sources: American Iron & Steel Institute, Ward's Automotive Reports, Edison 
      Electric Institute, American Petroleum Institute, Energy Dept., WWPA1, SFPA2, 
      Association of American Railroads
      
      LEADING INDICATORS
                                                  LATEST       WEEK      YEARLY
                                                   WEEK        AGO       % CHG
      
      STOCK PRICES (2/6) S&P 500                  1012.46      980.28     28.2
      CORPORATE BOND YIELD, Aaa (2/6)                6.69 %      6.70 %   -8.9
      INDUSTRIAL MATERIALS PRICES (2/6)              96.0        96.5    -12.1
      MONEY SUPPLY, M2 (1/26) billions           $4,070.4   $4,065.1r      5.9
      INITIAL CLAIMS, UNEMPLOYMENT (1/31) thous.      303         300     -6.5
      MORTGAGE APPLICATIONS, PURCHASE (2/6)         249.4       253.8     40.3
      MORTGAGE APPLICATIONS, REFINANCE (2/6)      2,028.7     2,038.6    435.0
      
      Sources: Standard & Poor's, Moody's, Journal of Commerce (Index: 1990=100), 
      Federal Reserve, Labor Dept., Mortgage Bankers Assn. (Index: March 16, 1990=100)
      
      PRICES
                                               LATEST      WEEK     YEARLY
                                                WEEK       AGO       % CHG
      
      GOLD (2/11) $/troy oz.                  298.450    298.150     -11.6
      STEEL SCRAP (2/10) #1 heavy, $/ton       140.50     145.50      -4.1
      COPPER (2/6)  cents/lb.                    80.2       76.0     -27.6
      ALUMINUM (2/6)  cents/lb.                  72.8       73.5      -6.1
      COTTON (2/6) strict low middling
         1-1/16 in.,  cents/lb.                 63.65      62.30     -10.2
      OIL (2/10) $/bbl.                         16.18      16.24     -27.8
      CRB FOODSTUFFS (2/10) 1967=100           225.34     227.20      -4.2
      CRB RAW INDUSTRIALS (2/10) 1967=100      295.52     296.79     -14.0
      
      Sources: London Wednesday final setting, Chicago market, Metals Week, Memphis 
      market, NYMEX, Commodity Research Bureau
      
      FOREIGN EXCHANGE
                                            LATEST      WEEK      YEAR
                                             WEEK        AGO       AGO
      
      JAPANESE YEN (2/11)                   123.67      123.75    123.83
      GERMAN MARK (2/11)                      1.82        1.80      1.68
      BRITISH POUND (2/11)                    1.63        1.66      1.63
      FRENCH FRANC (2/11)                     6.10        6.05      5.68
      ITALIAN LIRA (2/11)                   1795.5      1779.5    1649.0
      CANADIAN DOLLAR (2/11)                  1.44        1.45      1.36
      MEXICAN PESO (2/11)3                   8.435       8.419     7.790
      TRADE-WEIGHTED DOLLAR INDEX (2/11)     108.9       108.8     104.3
      
      Sources: Major New York banks. Currencies expressed in units per U.S. dollar, 
      except for British pound in dollars. Trade-weighted dollar via J.P. Morgan.
      
      INTEREST RATES
                                             LATEST      WEEK       YEAR
                                              WEEK       AGO        AGO
      
      FEDERAL FUNDS (2/10)                    5.44 %     5.47 %     5.07 %
      COMMERCIAL PAPER (2/10) 3-month         5.42       5.44       5.40
      CERTIFICATES OF DEPOSIT (2/11) 3-month  5.55       5.54       5.36
      FIXED MORTGAGE (2/6) 30-year            7.16       7.25       7.89
      ADJUSTABLE MORTGAGE (2/6) one-year      5.70       5.73       5.74
      PRIME (2/6)                             8.50       8.50       8.25
      
      Sources: Federal Reserve, HSH Associates, Bloomberg Financial Markets
      
      #Raw data in the production indicators are seasonally adjusted in computing the 
      BW index (chart); other components (estimated and not listed) include machinery 
      and defense equipment. 1=Western Wood Products Assn.   2=Southern Forest 
      Products Assn.    3=Free market value   NA=Not available   r=revised   NM=Not 
      meaningful