business
U.S.: The Trade Picture Is Fuzzier Than It Looks
A seasonal quirk probably will make Asian damage look heavier than it is
By
Some timely and reliable data on foreign trade would come in handy about now. Exports and imports will be the main conduit for the impact of the Asian crisis on U.S. economic growth and prices, but as of early February, the available trade data only go through last November. And because of a quirk in the yearly seasonal patterns of the numbers, those data are not telling the true story.
Wall Street is especially vulnerable right now to whichever way the Asian winds are blowing. That was clear on Feb. 2. Spurred by rallies in Asian financial markets, the Dow Jones industrial average soared 201 points, and the Standard & Poor's 500-stock index pierced the 1,000 mark for the first time. That jump reflected the belief that Asian fallout on the economy and profits will be lighter than feared. Indeed, the fourth-quarter report on gross domestic product shows that the U.S. economy raced toward 1998 at a heady 4.3% annual growth rate, and the latest data suggest continued momentum in domestic demand this quarter.
Fourth-quarter GDP gains were widespread. Consumers hiked their spending at a 3.2% clip, led by a 5.1% gain in services. Inventory accumulation added two-thirds of a percentage point to GDP growth. And investment in housing rose at a robust 10.4% clip. One surprise was a drop in business investment in equipment, mostly for low-tech machinery. But the drop was most likely a pause after an outsize 24.1% surge in the third quarter, and business spending probably has returned to its upward trend this quarter.
Leading all sectors in the growth race, though, was foreign trade. The GDP numbers suggest that the trade gap narrowed sharply, adding 1.3 percentage points to the quarter's growth rate. The narrowing in the net exports figure last quarter was the second-biggest improvement in this seven-year expansion.
BUT MAYBE TRADE WASN'T SO ROSY. Since yearend 1993, the trade gap has narrowed in every fourth quarter, only to widen in the first quarter--and the pattern appears to be getting worse (chart). The trouble is that both exports and imports of goods still show a recurring seasonal pattern--even after the Commerce Dept. has seasonally adjusted the data to exclude such tendencies. In fact, after BUSINESS WEEK's readjustment of the data back to 1990, the resulting trade gap held about steady last quarter, suggesting that true economic growth may have been only about 3%.
For the outlook, the problem is that the seasonal factors have tended to cause a severe deterioration in the deficit in the first quarter. So even if the Asian crisis hadn't happened, this idiosyncrasy makes it very likely that the first-quarter trade deficit would still widen, as it has for the past five years.
Of course, most economists expect weaker Asian demand to start hitting exports and imports this quarter. But the data distortion will make it more difficult to interpret the upcoming trade numbers. So if, as seems likely, the trade gap grows, the markets may do a double-take and start worrying about Asia again.
EQUALLY IMPORTANT, just as the fourth-quarter's narrower trade gap overstated the economy's strength, this quarter's wider deficit will understate it. The latest data clearly show that while the economy is slowing a bit, domestic demand remains healthy. The National Association of Purchasing Management's business index slipped to 52.4% in January, from 53.1% in December.
Almost all the components showed slower growth, but the dropoff in exports orders was a real head-turner (chart). The export-order index indicated that foreign demand dropped in January for the first time in two years. In a special NAPM survey, 53% of the respondents expected the Asian crisis to cut into their export orders, while 40% predicted no impact.
The purchasers' overall orders index, however, increased to 55.2% from 53.9%, suggesting that demand at home was still rising. In addition, even with a dip in January, the latest purchasers' index is consistent with GDP growth of 3%, says the NAPM. Coming off a 3.9% increase in 1997, 3% growth is still a very quick stride.
Consumers in particular remain in a spending mood after ending 1997 with a modest uptick in purchases. Real consumer spending rose 0.3% in December, the same advance as in November. And weekly store surveys for January suggest that shoppers did not pull back last month. True, unseasonably warm weather in parts of the U.S. probably meant that winter-related items, such as wool coats and snowblowers, were not purchased. But LJR Redbook Research says that store sales rose 1.9% in January from December.
Rising incomes have been a big boost for spending (chart). Real disposable income grew at a 4.7% annual rate last quarter, the fastest quarterly pace in three years. For the year, both consumer spending and real disposable income grew about 3.7%, more than a percentage point greater than their average yearly increases for this expansion.
A DOWNSIDE TO THAT SPENDING SPREE was the drop in savings. The 1997 savings rate fell from 4.3% in 1996 to 3.8%--the lowest since 1939. But that number belies households' huge returns earned on their stock and bond investments. Actual savings surely are a lot larger. Moreover, households may be cashing in some of that wealth. And with the stock market still rising, that profit-taking will continue to fuel further buying, as will the cash windfalls from mortgage refinancings.
Some of the stock gains were used to buy homes in 1997. Sales of new single-family homes fell 9.3% in December, to an annual rate of 777,000. But sales had risen 9.2% in November. For all of 1997, 800,000 new homes were sold, the largest number in 19 years.
Strong demand has powered the homebuilding industry. Spending on residential construction increased 1.4% in December, the sixth consecutive gain, even as total building outlays were flat. Thanks to January's warm weather in most areas, housing probably started 1998 with a smart gain as well, and should contribute handsomely to first-quarter GDP growth.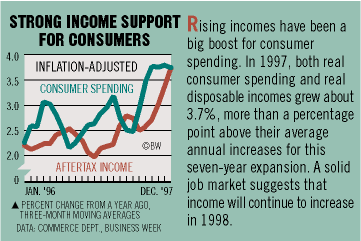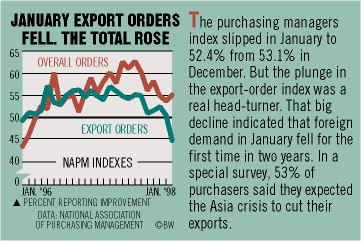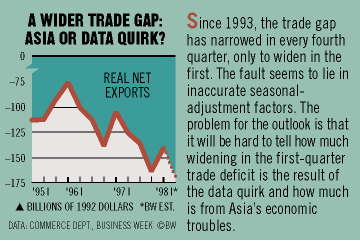 Even amid strong domestic demand, Asia has given the Federal Reserve breathing room to hold policy steady. As expected, it left interest rates unchanged at the Feb. 3-4 meeting. But spending this quarter is stretching labor markets ever tighter.
That strength, of course, may be overshadowed this quarter by the spotlight on foreign trade. To be sure, the Asian drag on U.S. growth will not be negligible, but the true impact may be hard to decipher in coming months. After concluding that Asia is not a problem, Wall Street may be quick to sell off on evidence that the Asian downturn is causing a serious worsening of the U.S. trade position. But in reality, a major part of the cause may very well be quirky data.
Before it's here, it's on the Bloomberg Terminal.
LEARN MORE