Rich Kids
As Germany's postwar generation dies out, its heirs--more secure, less cautious--are willing to take unprecedented risks
Karen Lowry Miller
In 1945, Reinhold Wenz stumbled back from the Russian front to the rubble of Pforzheim, his hometown in southwestern Germany, and immediately set to work. Then 39, he began rebuilding from scratch the mail-order company for jewelry, leather, and other high-end goods that he and his brother had founded in the years before World War II. By the 1980s, Wenz Mail Order had 1,500 employees and annual sales of $273 million. Clocking 18-hour days, Wenz kept plowing his earnings back into the company until 1995, when he sold it to another German retailer.
His youngest son, Rainer, 32, is an entrepreneur of another stripe. With a $136,000 grubstake from his father, he set up a company to rent Range Rovers to tourists in Switzerland after he finished boarding school there. Upon completing an MBA at the University of Chicago, he invested additional family cash. He now runs more than a dozen businesses, including a retail chain, a bistro, and his still thriving Swiss operation. And he has several million dollars more to pour into new ventures or the financial markets. "My father's idea of diversifying was to put his money in five banks in case one went bust," grins Wenz, as his 5-year-old son tears through the office in a toy Ferrari.
Meet Germany's rich kids. As the postwar generation dies out, Wenz and millions of others are inheriting unprecedented hoards of cash, companies, real estate, and other property. The successor generation could receive over $1 trillion in the five years to 2002, figures management consultant BBE-Unternehmensberatung (chart, page 26). The average German inheritance, which amounted to $46,448 in 1980, could more than quintuple, to $257,704, by 2002 (chart, left).
The heirs to this windfall have a take on wealth that is completely different from their parents'. For the first time in more than 100 years, possessions are passing to a sheltered, secure generation. Unlike the stoic survivors who rebuilt Germany in the Wirtschaftswunder years of the 1950s, they have never suffered the privations of war or the fearful desperation of starting over.
The caution that has marked Germans' investment patterns for decades resulted from nearly a century of turmoil. From the hyperinflation of the 1920s to the dictatorship of Adolf Hitler and the currency reform of 1948, older generations saw their financial assets wiped out repeatedly. Ever since those days, preserving capital has been their priority. Their heirs, by contrast, want to build it--and are willing to take risks to do so. "We could see a tremendous shift in the flow of funds into the equity markets over the coming years," says Norbert Walter, managing director of Frankfurt's Deutsche Bank Research.
The change is sparking an investment revolution in Europe's most powerful economy. Frugal families once protected a hard-won nest egg by socking it away in government bonds, insurance, and real estate. Now, their heirs are turning Germany into a nation of investors rather than savers, embracing the Anglo-Saxon goals of transparency, liquidity, and high returns. They are also fueling a boom in entrepreneurship, funneling funds into new ventures from services to technology. And they don't hesitate to change course if a more lucrative business opportunity comes up. "The challenge for this generation is to preserve and add on to what exists," says Thomas Mayer, chief economist at Goldman, Sachs & Co. in Frankfurt.
Their demand for higher returns is reshaping Germany's financial system. Stuffy private banks are exploring ways of attracting fickle young customers from launching Web sites to slashing charges. Commercial banks are adding services such as mutual funds to replace traditional deposits. Financial planning is finally taking hold, decades behind the U.S. and Britain. Foreign and domestic mutual-fund companies, such as Fidelity Investment Co. and Deutsche Bank's DWS, are trying to entice a younger generation with products such as international funds. Even life-insurance companies are studying new equity-linked products that offer higher yields.
RESTLESS HEIRS. The new money dynamic has profound implications for Germany Inc. That's because much of the wealth cascading to the new generation is in the form of companies. About 1.3 million midsize family-run businesses, many dating back five or six generations, make up Germany's fabled German Mittelstand. They account for two-thirds of the country's economy. Since the war, they have been at the heart of Germany's economic might.
Now, a quarter of them--or around 300,000 companies employing 4 million people all told--are expected to change owners during the next five years. As their aging proprietors hand over the reins, some sons and daughters are steering the companies in new directions, determined to keep them going. But many retiring founders find their children interested in different careers, and they must sell or close up shop. As a result, a consolidation wave is sweeping through industries from leasing to bottling. As many as 90,000 of the 300,000 companies could disappear, along with half a million jobs, says Gunter Kayser, director of Bonn's Institute for Mittelstand Research.
But at the same time, young heirs are starting new businesses. Thousands are rushing to exploit Germany's growing technology and service industries. Holger Kaus, 28, for example, is using his inheritance to set up an antique and interior design company with Petra, his sister. Their grandfather Willy lost everything in World War II and was jailed by the Allies for a year, while five Americans lived in his house. Yet he parlayed a small tire-making shop into a conglomerate of 37 businesses before he died in 1979. "Grandfather was a workaholic," says Kaus, pouring coffee from an elegant silver service at his house near Frankfurt. "We are flexible, with our own ways to be successful."
SAFETY NET. For some heirs, their windfall opens new frontiers. In 1990, Berndt Uellendahl sold the company he founded in 1954 to distribute Swiss machine tools in Germany. His son Sven, 43, looking for a new career, received several job offers in Europe. But the lure of the U.S., where he had worked as an apprentice in a machinery company in the 1970s, proved stronger. In 1991, taking 10% of the family capital, Sven Uellendahl founded Gulf Building Corp. in Fort Lauderdale, Fla. After a few rocky years, the $25 million construction company is profitable. Sven says he's glad he had a safety net. "I could always call dad and say: `I'm broke,"' he says. "It makes life easier knowing the money is there and available."
That sense of security underlies Germans' growing tolerance for a lot more risk in their portfolio investments, too. The new heirs provided the bulk of the $49.9 billion that flowed into the German stock market in 1996--double the amount in 1991. They even dabble in derivatives, which are slowly taking off. They scour the world for the best investments, playing foreign markets and buying property in Florida and Tuscany. A few sponsor German innovation by putting money into venture-capital funds.
The younger the heirs, the more willing they seem to take a gamble. One 25-year-old in Cologne defied his father's fears and put a few thousand marks from his own savings--passed down early from dad--into currency futures last year. The first time, he lost his entire investment. The second time, he doubled it. "It's easier to play with money you haven't earned," he says.
This generation also has a very different idea of geographic diversification. During the cold war, families tucked a bit of money into overseas accounts simply to hide it in case of a Soviet invasion. The trickle is now a torrent. In the three years through 1996, Germans pumped $32 billion annually into foreign securities and assets, compared with $12 billion a decade ago. Christoph Bettag, 39, who spins about Aachen in a 1990 black BMW Z1 roadster, is investing privately in a hotel on an island off the coast of northern Germany and is a minority partner in a resort in the Dominican Republic.
BANKS GET WITH IT. The rich kids are a godsend to financial intermediaries. Bankers who rarely received even vague investment guidelines from their clients before are now grilled by customers who keep an eagle eye on their portfolios. Financial planning is taking off. Commerzbank was one of the pioneers and now writes about 1,000 plans a year for middle-class clients, as well as offering computer-based planning packages. Just over a year ago, Deutsche Bank set up a private banking operation that targets wealthy individuals with come-ons such as three types of financial-planning packages. The advice isn't cheap. Rolf Tilmes, a financial-services specialist at Booz, Allen, Hamilton & Inc. in Frankfurt, estimates that a bank can earn $20,000 to $27,000 in extra fees in the first year of each financial plan it sells.
Appealing to the new heirs is a question of survival for bankers. As head of private banking at Sal Oppenheim Jr., a family-controlled bank that has catered to the upper crust for 209 years, Wulf Matthias is devising ways to make sure the bank keeps up with the times. To hang on to the children of his customers, 75% of whom are between 50 and 80 years old, he assembled a multimedia team to design a Web site and cd-roms for marketing. In September, at the bank's venerable headquarters in Cologne, the staff opened a cybercafe that is attracting a stream of inquiries. Next, he may organize investment seminars for children of his clients. "We will build a link to the next generation," he says.
In addition to more cutting-edge communications, young people want broader services from their banks. During the 1990s, Dusseldorf fund-management firm Trinkaus & Burkhardt began offering its clients advice on drafting wills and setting up executorships, to build relationships with several generations in a wealthy family. Oppenheim may launch life-cycle products such as home financing and real estate services, and is debating whether to lower account minimums from the current $55,000. That's because 45% of inheritances come in below that figure. "We're going lower because there's a lot of money there," says Matthias.
Mutual-fund companies are even prying younger Germans loose from the traditional fixation on safe bonds and insurance policies. Partly because of angst over the future of Germany's state retirement system, people in their 30s and 40s are changing strategies. For example, with the $60,000 that 37-year-old Peter Polzer inherited from his grandmother, he is buying equity mutual funds for the first time. "It's up to me now," says Polzer.
The shift in Germany's wealth is fueling a boom in mergers and acquisitions. Investment banks--especially U.S. giants such as Goldman Sachs and J.P. Morgan & Co.--are prowling the country to arrange mergers and buyouts by bigger companies. More than 90% of the record 1,900 m&a deals done in Germany last year involved Mittelstand companies. With a collective price tag of $15 billion, they generated at least $150 million in fees.
Last year may have seen a rush of such consolidation deals because of anticipated tax reforms. A deduction that halves the personal taxes that proprietors must pay on the first $8.2 million when they sell a company is likely to be abolished. In addition, German inheritance taxes, which can run to 27% for immediate family and as high as 47% for others, force business founders to plan well in advance. If families don't keep enough cash in the company, the next generation could be forced to liquidate the business just to cover taxes when the assets are transferred.
SHIFT IN VALUES. Some families go to extreme lengths to avoid this fate. In 1996, Diether Klingelnberg, 53, even moved his family to Belgium, a 121-kilometer commute to his machine-tool company near Dusseldorf. Provided that Jan, his son, is still resident abroad when Diether dies, he will escape high German estate taxes. Klingelnberg's own father died suddenly at age 46, when Klingelnberg was just 15. "I know what it means if you don't plan," he says. "I want the company to outlive me."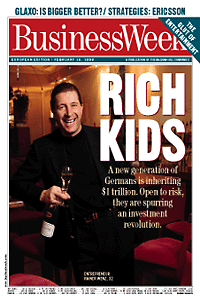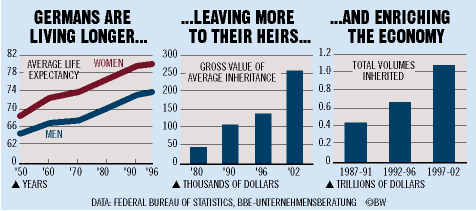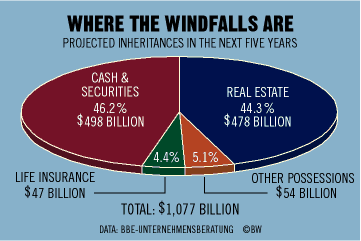 Clearly, Germany's new heirs have values that are different from those of their forebears. But they won't transform Germany's financial system alone. Politicians must break their gridlock over crucial financial reforms and ease the ponderous regulatory climate. Besides, a complete change in investment mentality "could take another generation," says Christian Strenger, ceo of fund manager DWS.
Nevertheless, as the postwar generation passes on its hard-won wealth, the impact will reverberate for years. Germany's new heirs will be the first with money to spend in relative fearlessness. How they split it between spending and investing, or between home and abroad, will redefine Europe's biggest economy. Germany, and Europe, will be vastly changed as a result.