Japan: Not Much Help Or Hope For Consumers
by
Beset by past tax hikes, weak income growth, and poor labor markets, Japan's consumer sector remains dead in the water at the start of 1998. And that sluggishness comes at a time when Japan also faces a severe drop in exports because of reduced demand in Southeast Asia.
The yearend data tell the tale of a floundering consumer sector. Although December's unemployment rate dipped to 3.4% from 3.5%, the more important job-to-applicant ratio slipped from .69 to .68, the sixth consecutive decline (chart). Real wages were flat in 1997, hurt by three tax hikes and slim pay raises. And yearend bonuses were disappointing, especially in the financial sector. Little wonder, then, that consumer sentiment has been falling since last spring. In the fourth quarter, all five components of the sentiment index fell, but job security posted a particularly large plunge.
As a result, consumers are cutting back, especially on big-ticket purchases. Car sales plunged 23.5% in January vs. a year ago. Housing starts dropped 18.6% in the year that ended in December. And overall household spending in November fell 2.1% from 12 months earlier.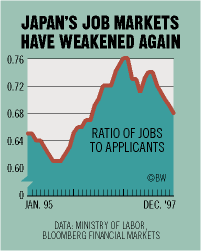 Household purchases account for three-fifths of Japan's real gross domestic product. And the pullback by jittery consumers makes it unlikely that the economy will meet the government's forecast of 1.9% GDP growth in the fiscal year starting on Apr. 1. Private economists' forecast of a real GDP rise of 1% in 1998 seems more plausible. Real GDP grew about 1% in 1997.
As a solution, on Feb. 4, Parliament approved a one-time tax cut of 2 trillion yen ($15.7 billion) and some increased public spending. But given the sorry state of consumer fundamentals related to jobs and incomes, a tax cut of just 65,000 yen ($512) for a family of four will do little to jump-start spending on durable goods. Already, the thinking in the financial markets is that Tokyo will have to offer more. It's either that or accept an especially weak economy for yet another year.
Before it's here, it's on the Bloomberg Terminal.
LEARN MORE