It's Not Just The Chaebol That Are Squeezed
Sky-high interest rates could crush the whole economy
Moon Ihlwan
Oh Bok Taik has given up all hope of making a profit anytime soon. Since last November, when South Korea sought a bailout from the International Monetary Fund, Oh's Kyung Il Enterprise has been in the red. Interest rates, which have doubled from 13% three months ago, make it impossible for him to pay off his loans and also cover the manufacturing costs of his audio-systems business. "I'm just enduring," says the 48-year-old Oh. "If this situation continues beyond June, I'll have to decide when to shutter my company."
Cash-strapped enterprises like Oh's could well pose the biggest obstacle to Korea's recovery. Sure, Seoul stocks have surged on news that the government has restructured $24 billion in short-term debt owed to European, U.S., and Japanese banks. But that workout benefits the big Korean banks and their large corporate clients, the chaebol. Meanwhile, the vast majority of Korean manufacturers still owe some $150 billion of won-denominated debt to local banks and other Korean firms, just when rates are hitting record highs. As a result, many corporations will soon be so starved for cash they may have no option but to shut down.
Already, the signs point to a big deterioration in the business climate. In December, 123 companies on average failed each day--a 1,000% increase from a year earlier. The failures probably continued at the same pace in January. "Few companies will be able to withstand the current interest-rate regime," says Rhee Sang Tae, a manager at the Korea Federation of Small Business. Rhee expects as many as 30,000 small and midsize companies to go bankrupt this year, a big jump from 1997 (chart).
PUNISHING RATES. Local financial practices are worsening the crisis. To save money up front, the chaebol and other companies have typically paid their small local suppliers with promissory notes--pledges to pay off a bill at a specified date, up to six months later. Suppliers in need of quick funds have taken these notes to banks, which bought them for cash, but at a price discounted from their face value. The banks later collected the full amount.
These days, the chaebol still insist on paying bills with promissory notes. But local banks now refuse to buy the notes, partly from fear the chaebol will never pay, and partly because the banks must hoard cash to meet stiff capital ratios imposed by the IMF. As a result, Korea's midsize companies cannot find cash to pay their own bills and stay in business. Shut out from bank credit, companies like Kyung Il are forced to go to the unregulated moneylenders who charge a punishing 36% rate. The results of this hardship can be devastating. An associate of Oh Bok Taik attempted suicide after an $800,000 promissory note his company received from Hanbo Iron & Steel Co. turned into a useless piece of paper when Hanbo folded.
Bigger companies remain at risk, too. Lee Won Il, chief corporate analyst at KEB Smith Barney Securities, estimates that out of the Seoul stock exchange's 558 listed nonfinancial companies, 137 have similar or worse short-term debt burdens than those that have already gone bust. Among those are Doosan Machinery, Daesang Petrochemical, Kabool Textiles, and OB Brewery.
Even the reforms are hurting. The government's order to close down 10 shaky merchant banks deprives local borrowers of $22 billion in credit. Now companies will have to procure fresh loans from surviving banks, usually at a much higher cost.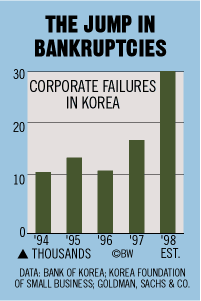 This local debt crisis can end only through a massive inflow of foreign money. One obvious way to raise that money is through exports. But 52% of all Korean exports usually go to the rest of Asia, which is now so battered that it has little appetite for Korean products. Another method is tapping the overseas capital market, but huge losses at most companies make this almost impossible.
The final option is to sell assets to foreign investors--but that depends on the rapid passage of proposed laws that make it easier to restructure Korean companies. "Time is running out," says Kang Moon Soo, a senior fellow at the Korea Development Institute, a government think tank. Steve Marvin, head of research at Ssangyong Securities Co., predicts another bailout unless Seoul stabilizes the domestic debt problem. For Korea, recovery is a work in progress.
Before it's here, it's on the Bloomberg Terminal.
LEARN MORE