High Risk Lenders Land With A Thud
Liberal loans and lax accounting lead to widespread losses
Richard A. Melcher and Andrew Osterland
The financial carnage is piling up. First, the pack of companies throwing money at high-risk car buyers ran into a wall. Now, home-equity lenders are getting clobbered. The so-called subprime industry, which targets poor-credit consumers and has been the darling of Wall Street, suddenly seems a lot more sub than prime. "I've never seen anything like the collapse of an industry this quickly," laments George C. Evans, a 40-year finance veteran. On Feb. 3, Evans, chief executive officer of Dallas-based Search Financial Services Inc., threw in the towel after a two-year effort to make Search a major subprime player. With his stock trading at about 25 cents, Evans pulled out of the auto business.
When Ugly Duckling Corp., a used-car dealer and subprime lender, reports yearend earnings on Feb. 9, some on Wall Street expect Ugly--which has seen its stock hammered by credit losses--to focus only on lending to customers of its dealers. Chief Financial Officer Steven T. Darak says such a move is a consideration, adding more broadly that "many investors aren't sure this industry works, and in light of all the problems, I'm not sure that's an unfair judgment."
BAD ASSUMPTIONS. Consider this: An index of 28 subprime auto stocks has collapsed 66% over the past year, and more than half the companies are trading at below $2. An index of home-mortgage-company prices has fallen 41% (charts). Suddenly, earnings surprises--or worse--are the order of the day. On Jan. 20, Green Tree Financial Corp., the leading lender to the manufactured-housing sector, unveiled fourth-quarter write-downs of $190 million and restated 1996 earnings downward by $200 million--a result of accounting errors and overambitious assumptions. Only days before, auditors Deloitte & Touche resigned their account at National Auto Credit Inc., claiming they couldn't rely on management's information. The move triggered an 80% plunge in the stock, to about $1.25. Two senior execs stepped aside temporarily.
Why didn't subprime operators pay more attention to the high risks? The theory was that the risk of default would be offset by the high-priced interest payments by consumers with murky credit histories. Now, analysts--and some executives--concede that in their enthusiasm to book more assets amid hyper-competition for new borrowers, they vastly underestimated the risk profile.
Many companies were able to package their loans, sell them as securities, and book a profit. The subprime auto market in securitized assets skyrocketed from $394 million in 1994 to $4.5 billion in 1997, according to Standard & Poor's Corp. The home-mortgage market exploded sixfold, to about $60 billion, and the fastest-growing segment is now among the potentially riskiest--lending up to 125% on the value of a home. "This was a no-brainer," says Evans. "You get a company, do an IPO, securitize some assets, and you're off to the races." Says longtime skeptic Thomas Facciola, a senior vice-president at Lehman Brothers Inc.: "This is an evil creation of Wall Street."
The Street also overlooked questionable accounting assumptions. "No other industry allows so much latitude in assumptions that affect reported earnings," notes Charles Scavone, a senior portfolio manager at Aim Advisors Funds Inc., a former Green Tree holder.
MORE TO COME. Many home and auto lenders that securitize loans use "gain-on-sale" accounting, in which they book a profit at the time of the deal and make assumptions on future earnings streams based on default rates of borrowers and the length of time the loans will be outstanding. Many of these assumptions proved wrong.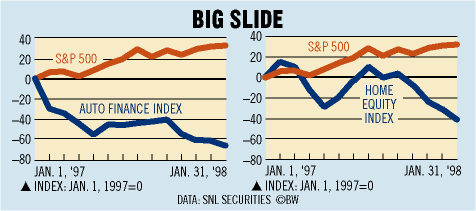 Few in the industry or on Wall Street think the worst is over. Standard & Poor's figures defaults on pools of the riskiest auto loans will exceed 23% over the life of the deals. One sign of increasing market risk in the high-loan-to-value mort- gage market is that rates on securitized mortgage paper for some of the riskiest companies have soared in the past two months, to 300 basis points above Treasuries--some 100 points higher than better-regarded issuers. So far, analysts say that investors in the securitized paper are covered by sufficient collateral. But they stress that the price of entry for the riskiest lenders seeking new deals already is rising, through stiff demands for insurance and increasing collateral.
Cary H. Thompson, chief executive of Aames Financial Corp., sees enough trouble ahead that he is putting his mortgage-finance company up for sale. "Given the youth of most of these portfolios, you won't see a lot of the problems until next year," he believes. Thompson already has abandoned his securitization strategy. He may be on to something: Given the plight of
the industry, the best prospect may well be a massive purging of the weakest players, which will allow the survivors to build a stronger--and hopefully better managed--industry.
Before it's here, it's on the Bloomberg Terminal.
LEARN MORE