Can Pixar Keep Up The Magic?
Steve Jobs wants to transform this digital production house into a filmmaker to match Disney
by
In high-tech circles, Steven P. Jobs's reputation as a visionary is matched only by his reputation as one of the most arrogant entrepreneurs in Silicon Valley. So when Apple Computer Inc.'s interim chief executive began predicting some years back that his Pixar Animation Studios was destined for movie-industry greatness, there were plenty of doubters, including Walt Disney Co. Chief Michael Eisner. While Pixar's Toy Story had just given the Magic Kingdom the top-grossing film of 1995, Eisner was startled when Jobs, at their first face-to-face meeting, asked for a hefty 50% cut on future films. "I told Mike we were building the world's next great animation studio," says Jobs. "I think it knocked him off his rocker."
Now, Jobs intends to surprise a lot more people. On Feb. 5, he plans to announce that Pixar is on a moviemaking pace matched only by Disney: one major animated film every year. First up is A Bug's Life, due out at Thanksgiving. Then, rather than a previously planned direct-to-video sequel for the blockbuster Toy Story, Jobs will do a theatrical release in late 1999, followed by an untitled film in 2000. "This way, even if every film isn't as successful as we'd like," says Jobs, "we'll be able to take our next shot just a year later."
Hedging his bets is becoming a way of life for Jobs. Since last July, the 42-year-old entrepreneur has spent most of his waking hours salvaging Apple, which has watched its market share plummet to a dangerously low 3%. But last quarter, after Jobs spent a summer of 16-hour days, Apple returned to profitability. Now Jobs is itching to split his time between the two companies. Will he remain at Apple? "It's about how much time I have in my life--and the more I have for [Pixar], the better," he says.
Especially given his grand plans. If Pixar can keep up its ambitious moviemaking pace, Jobs vows he can build a new breed of digital studio with earnings power rarely seen in Hollywood. How? Pixar splits the $50 to $100 million production cost with partner Disney, which also foots the bill for distribution and marketing. Once Disney is paid, all Pixar needs to do is wait for its share of the profits to roll in from the box office and video and merchandise royalties. With a projected take of $200 million-plus per film, Pixar's profits could shoot up from an expected loss of $4.6 million this year to $60 million plus once it hits Jobs's one-film-a-year stride, say analysts. "With Pixar, you get a pure play of Disney's best business," says portfolio manager Philip W. Treick of Transamerica Investment Services, who purchased 2.5 million shares of Pixar, worth $50 million.
Sound like fantasy? Consider Disney's The Hunchback of Notre Dame. The 1996 animated feature pulled in $100 million at the box office, a lackluster performance by Disney standards. Even so, it brought in profits of $500 million when merchandise and video revenue are added. Now take Jobs's new deal with Disney: Pixar would have earned $150 million from Toy Story, say analysts--a far cry from the $40 million it got under its old contract. "This is what puts the luuuu in lucrative," crows Jobs, who owns 71% of Pixar's stock, worth $870 million, a huge return on the $50 million he has invested.
A SUSPENSE STORY. Still, catapulting Pixar into the big time is bound to be a tale of suspense. While Pixar has John Lasseter, the Oscar-winning director of Toy Story--the third-highest-grossing animated movie, bringing in $350 million--there's no guarantee Pixar can repeat such success. "They've got a great track record, but they've only run one race," says Merrill Lynch & Co. analyst Harry Wagner. On Feb. 5, Pixar is expected to earn $1.2 million on $4 million, a 50% drop in sales from a year ago, says UBS Securities LLC analyst Edward T. Hatch. Since revenues from A Bug's Life won't roll in until late 1999, Pixar won't be profitable in 1998, says Jobs.
That's not the only challenge for Pixar. There's evidence audiences are tiring of animated flicks--just as the field is getting more crowded. Disney's last three efforts have suffered shrinking box office receipts. And there's new competition: DreamWorks SKG, led by director Steven Spielberg and former Disney star Jeffrey Katzenberg, will release The Prince of Egypt this Christmas, followed with Antz next spring.
BIG PRIZE. A Bug's Life could extend its winning streak. It's a morality tale of a hard-luck ant named Flick who tries to hire protection against marauding grasshoppers. But Flick hires a troupe of circus insects instead. Made with 5 to 10 times the computing power of Toy Story, the film is visually stunning, with flowing grass and expressive faces, including a double-chinned caterpillar named Heimlich.
And Pixar remains focused on the big prize: families. DreamWorks' edgier Antz--another tale of a misfit bug "played" by Woody Allen--may get points with adults. But Bugs is creating a buzz with merchandisers and advertisers such as Mattel Inc. and McDonald's Corp.
If Bug's doesn't soar to great heights, Toy Story II may pick up the slack. When Pixar's team came up with a story line--Buzz returns the favor done him in the original film by saving Woody from an evil toy collector--Jobs began pressing Disney for a spot in the theatrical lineup. Analyst Hatch thinks a big-screen release will earn $80 million in profits for Pixar, vs. $35 million for a straight-to-video version.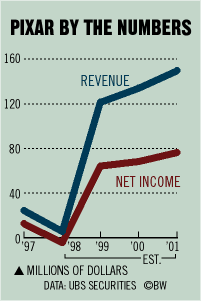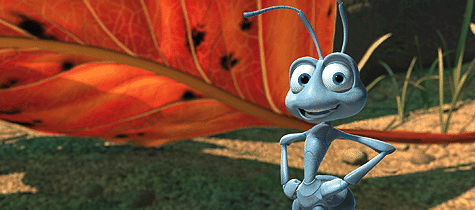 So when did Jobs decide Pixar should reach for the gold ring? While Jobs acquired Pixar in 1986, it was only as Toy Story neared release that he took a more active role. After watching the audience at three straight showings on the film's first day, Jobs began plotting Pixar's conversion from a production house to moviemaker. He set up the lunch with Eisner to ask for a 50-50 partnership. Eisner agreed, and a year later, on Jobs's 42nd birthday, the deal was announced.
Ever since then, Pixar has been Jobs's first love. "Apple's a job. Pixar is fun," says board member Harry M. "Skip" Brittenham. So long as Pixar keeps the blockbusters coming, that is.
Before it's here, it's on the Bloomberg Terminal.
LEARN MORE