A Special Lilt At Brite Voice
By
Investors in Brite Voice Systems (BVSI) haven't had much to talk about lately. After hitting 17 in January, 1997, the stock languished in the 7-to-12 range. Disappointing earnings for this provider of cellular voice-activated dialing and voice-response systems depressed the stock, leading to a management shakeup. But lately, some are betting on a "repositioned" Brite Voice.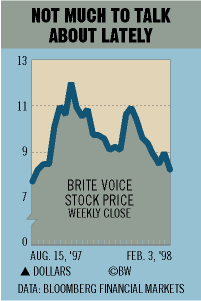 The installation of David Gergacz as chairman and CEO "bodes well," says Donald Newman of the New York investment firm Ladenburg Thalmann, "particularly through his connections in the telecommunications industry." One such link is with AT&T, with which Brite Voice has signed its largest agreement, worth $25 million, to provide AT&T with enhanced features for its products. The contract could conservatively reach $60 million over its three-year life. Brite also has a pact with Sprint and L.M. Ericsson to provide them with Brite's products for their wireless systems.
But one thing attracting little attention: AT&T's agreement to buy a warrant to purchase 1.4 million shares of Brite stock, at 11 a share.
"We're rating Brite Voice a strong buy with a 12-month price target of 16 to 18," says Leo Rishty, who edits the newsletter Unique Situations. The Street "has yet to grasp the significance of AT&T's stake in Brite Voice," he adds.
Before it's here, it's on the Bloomberg Terminal.
LEARN MORE